A Clip Show in Memoriam of Alan Rickman's Career, Including 'Die Hard,' 'Galaxy Quest,' 'Dogma,' 'Rasputin'
Remembering the versatile and always charming British stage and film actor with some of his crowning moments.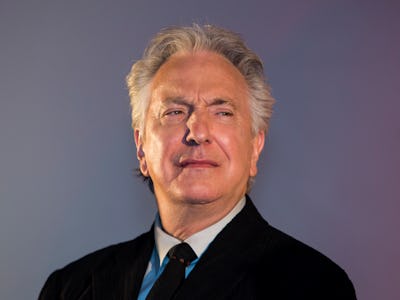 Getty Images
Why did we love Alan Rickman? Much of the world, outside of the British audiences who enjoyed his early theatrical work and the beloved Barchester Chronicles, can only name a handful of his roles, but he was a highlight of many of the movies he worked on. Plenty of these were subpar flops — Bottle Shock — and others were severely underrated — Galaxy Quest, Perfume, Sweeney Todd . Some of them are, in their own very particular ways, classics — Die Hard, Love Actually, Dogma, and of course, the Harry Potter series.
It's been a truly terrible year so far. To remember Alan Rickman, we've put together a clip show guide to his long career.
He was also extremely versatile, especially considering how distinctive his acting style is, able to play romantic leads, buffoons, wryly comic characters, extremely dignified but warm characters, and patent villains.
The Barchester Chronicles (1982)
Die Hard (1989)
Truly, Madly, Deeply (1990)
Robin Hood: Prince of Thieves (1991)
Rasputin (1996)
Dogma (1999)
Galaxy Quest (1999)
Harry Potter series (2002-2011)
Love Actually (2003)
Perfume: The Story of a Murderer (2006)
Sweeney Todd: The Demon Barber of Fleet Street (2007)
Bottle Shock (2008)
CBGB (2013)
The Butler (2013)
Rickman will also appear in a posthumous starring role in the upcoming drone warfare-related drama Eye in the Sky, which will be out in early March.