'Escape from Tarkov' Might Be the Next 'DayZ'  
The spiritual successor to 'DayZ' may only be a few months away.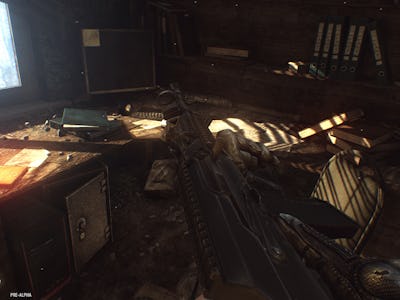 escapefromtarkov.com
Back in 2012, the post-apocalyptic zombie mod DayZ for ARMA II took over the video game world by storm — putting thousands of players in an incomplete, but entertaining, world which was massive in scale. While the mod had plenty of glitches and technical problems; it did allow for some rather unique player interactions to take place.
But it never created what it promised: a living, breathing environment driven by the players. DayZ didn't have an economy, it didn't have base-building, and more importantly, it didn't encourage players to work together. Sure, they've continued to add to the standalone version with patches, but at this point the game has become a shadow of its former self — everyone is an enemy and the environment is just a way of reaching them.
Since then, plenty of gaming companies have worked to copy the idea with their own vision in mind: H1Z1, ARK: Survival Evolved, and the notorious WarZ. Sure, some have been successful to a degree — but we're still lacking the refined hardcore military survival experience DayZ once promised us in a detailed open world for us to become a part of.
Come 2016, Battlestate Games Escape from Tarkov might just change that.
Escape from Tarkov takes place in a fictional region along the Russian border with Europe where large international companies planted themselves seeking to profit. In one of the largest cities in the region, Tarkov, political turmoil erupted into a conflict involving UN peacekeepers — resulting in the evacuation of the civilian population followed by the Russian military and UN sealing Tarkov off from the outside world. Now, private military companies wage war inside the city to uncover secrets hidden by those in charge — and that's where you come in.
Players will be able to choose between one of two groups to join, the USEC or BEAR, who are the private military corporations vying for control of Tarkov. You'll also be able to play as a scavenger, who serve as the bandits in Escape from Tarkov's narrative. While we don't know if this will have an impact on gameplay yet, it's safe to assume that the game is going to pit the three factions against each other — which could have an interesting affect on the player community and the loyalties behind those involved. I, for one, think it would be cool to team up with a group of people I was just fighting to fend off scavengers — but hey, that's just me.
Like DayZ, Escape from Tarkov is a military simulator — meaning that it rewards accurate and patient players who utilize their surroundings by planning their strategy. One bullet in Tarkov can end you instantly, which means that plenty of tense engagements and sensitive situations await you during your journey out of the city. Battlestate Games has also worked to incorporate concepts like hydration, blood pressure, and fractures into the game which serve as limits for your character you must learn to manage. You'll also have to maintain your armor, clothing, and weapons by cleaning and repairing them with resources found out in the world.
But Escape from Tarkov is taking these base mechanics a step further by putting them into a living, breathing world that players can help shape over time. Unlike DayZ, Tarkov aims to create a vibrant world filled with quests-like experiences and a player-driven economy. According to Battlestate, players will be running into various NPCs while playing that give them access to trading, auctions and community building elements. We'll even have the opportunity to become a trader ourselves, developing a network of resources that we can market to other players and characters in the world.
This level of interaction also carries into the minute-to-minute gameplay too — allowing you to slowly open doors and click on working lights or electronics while exploring Tarkov. You'll also be forced inside on occasion, thanks to the dynamic weather system present in the game, which promises plenty of harsh storms and detailed environmental changes for players to adapt to.
At the moment though, plenty of details are hazy while we wait for development to continue past the pre-alpha stage. While the open-world aspects seem like a dream come true for fans of the survival genre, it's certainly an ambitious project to tackle and release in a stable game (as proved by DayZ). Plus, we don't know the exact size of the world at this point or how the features discussed will apply to each game mode. On top of that, Battlestate Games has openly said they have a long way to go, with only 30% of the game's content complete at this point. They've got a closed beta coming early this year to further the development after receiving some player feedback though, which promises to show off everything they've discussed about the game up to this point.
While it certainly has a long way to go before release, Escape on Tarkov is a promising addition to the survival genre worth keeping on your radar this year.
Escape on Tarkov is currently accepting applications for closed beta.