Demy de Zeeuw's 8 Million Instagram Followers Have Taken Over His Phone
And video of the Dutch soccer player's notifications proves it.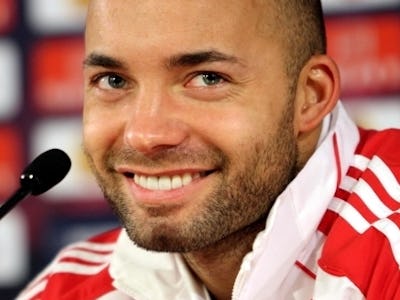 Yulia Novikova; Wikimedia Commons
Your dream of having 8 million Insta followers surely will stroke your ego, get you free drinks at bars, let you cut in line at the club. Your phone, however, will be stuck choking on your popularity, if this video of Dutch footballer Demy de Zeeuw's poor phone is any indication.
Maybe rethink your sense of scale next time you say, after getting your fourth text in two minutes, that your phone is blowing up.
When de Zeeuw turns on his notifications, the screen lights up with an endless scroll of likes and comments thanks to the 8 million followers of his soccer-social account @433. Here's the extended version, complete with a languid sip of coffee to offer a sense of how much time is actually passing.
But what are all those Insta followers talking about? Zeeuew oversees 433's strange, hilarious, and awesome posts of soccer in life and in action.
The veteran midfielder has played successful stints for Dutch clubs AZ and Ajax and has 37 caps for the national squad.