Can Classical Music Escape Sheet Music? Only If Tablets Can Keep Tempo
Orchestras want to get on the same page, but technology is doing nothing to help. Is it a hardware problem or a cultural issue?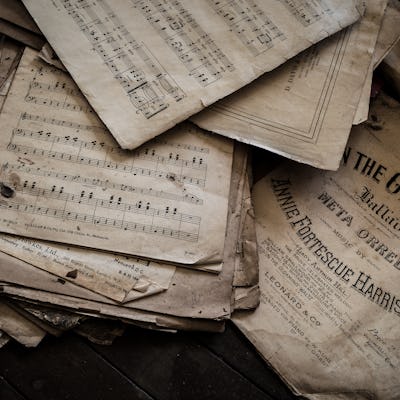 Brussels Philharmonic Facebook page
Attend the New York or Los Angeles Philharmonic and you'll see passionate conductors and technically impeccable players focus their tremendous energies on aged, sometimes deteriorating sheets of paper resting on rickety stands. This dynamic may seem, at first glance, like an apt visual metaphor for the classical music world being out of touch. It isn't.
The truth is more complicated. Orchestras and other large classical music ensembles aren't simply being stubborn about switching to tablet performance; for the moment, they're being practical. The relatively brief history of experimentation with large ensemble tablet use has been full of demoralizing mishaps and logistical disappointments. Peter Grimshaw, founder of multiplatform sheet music industry software development company BTM Innovations, recalls an early demonstration in 2012 sponsored by Samsung to promote their new tablet — the Galaxy 10.1 — in Germany.
"Samsung had the Brussels Philharmonic play Ravel's Bolero off of the new tablet. Everyone seemed amazed, and all the press were there and said, 'Wow.' But the administration was having a nightmare. Every power point in the place was filled up with these tablets. People were tripping over them left, right and center. It was really not a happy situation."
Keep in mind that Bolero is just over 15 minutes long and relatively easy to play. Veteran players would have had it under their fingers going into the show, so the orchestra in question probably didn't need to mark parts in any significant way, which is a fundamental part of any ensemble's rehearsal process. So the presentation, fraught as it was backstage, was a bit of a misrepresentation. Would a performance of an 80-minute late Mahler symphony have gone off so smoothly? How about a premiere performance of a new work that would need extensive marking and close reading?
"Devices are just still not as good as paper for musicians," Grimshaw argues. "They work for some sorts of music, but some screens are too small, and the light doesn't work well in dark pits and full daylight. They are also prone to outside interference, whether that's someone forgetting to turn off Facebook notifications or a battery running low in the middle of a concert."
If a tablet freezes, or doesn't respond to a touch signal (or foot pedal signal), there is no time to troubleshoot and restart. During a live performance, there is not room for instant correction in the same way that a violinist's stand partner can pick up a fallen piece of paper, or flip back (with the help of a Post-It or paperclip) to the correct page when a section of the music repeats.
"I think about a performance I saw with a singer and pianist, where the singer's iPad froze up," Gene Caprioglio — vice president of New Music and Rights at C.F. Peters Corporation, the American branch of international sheet music publishing company Edition Peters. "He had to stop and go backstage to get his book in the middle of the piece, come back and start over."
Despite the risks, it has become increasingly common for soloists, conductors, and smaller ensembles to use personal tablets in performance. One of the most high profile examples is Joshua Bell — one of the most renowned concert violinists in the world — who has begun to perform with a tablet and a foot pedal. Some small groups have used tablet functionality in musicologically creative, semi-performative ways. Caprioglio cites members of the Borromeo String Quartet in L.A. who formatted a scan of Beethoven's original handwritten manuscript of his String Quartet in B-flat Major, Op. 130 into their own tablet-friendly digital edition. This allowed the group to be able to observe the composer's exact markings, some of which had been lost or reinterpreted in subsequent editions.
But imagine performances featuring 50- to 70-plus tablets and you have a sense of the difficulties that would face a digital orchestra. New software and technology is needed to make that work.
There is no widely available tablet on the market with a screen larger than 13", and most are below the size of parts preferred by many professional groups, as outlined in the requirements for the Music Orchestra Librarians of America. Most national orchestras balk at parts smaller than 11x14, and — as Grimshaw notes — for players who sit particularly far back from their stands such as trombonists and harpists, most tablets will prove an uncomfortable hassle. However, the classical music industry is niche enough that without the vast majority of performance groups and publishing companies on board, designing and marketing a tablet catered specifically toward musicians seems down the road. This has not stopped small companies like SCORA in Belgium and NotesNote — based in Estonia and the UK — from developing prototypes; NotesNote has a dual 13.3" screen reader that opens outward like a folder, and SCORA's platform includes multiple different devices for solo, small ensemble and symphonic playing. But finding a business strategy to justify wide-scale production and distribution of these specialty items is a long shot with expensive devices in a small market.
Most professionals in the industry agree that appropriate hardware and proprietary concerns like these are really a very modest part of the issue with moving to digital performance. The more daunting and immediate challenge is getting the music ready to go onto tablets of any sort, and there are two steps to that process: Digitizing music in order to create an archive and providing musicians with access to that archive. According to Brad Cohen — an active conductor, editor, and founder and creative director of the music software company Tido, with which a group of sheet music publishers including Edition Peters and Faber Music have partnered — the specific tablet is not the issue at all. Cohen views the recent iPad Pro model as a solid first step toward a sheet-music-friendly device that will, given the rate of technological development, eventually be produced.
"It's not the devices specifically, but how the software architecture works," Cohen clarifies.
Unfortunately, making suitable content is not as simple as just scanning to PDF, which publishing companies — and performers using mostly public-domain materials found online — are already doing. A significant portion of these companies' repositories of classical works exist as non-retail-ready scans of old paper master copies, or have not reached a computer at all. This is partially because of one of the strange, immutable truths of the classical music world: Many of the world's orchestral performances are facilitated by sheet music publishers who rent printed and bound set of parts and conductor's scores. Sometimes, these "sets" are many decades old. These "rental only" items are for pieces still under copyright they hold exclusive rights to, and are of a size large enough that they cannot reasonably be produced in bulk for retail sale. The group pays a fee for each performance of the piece, and then mails the sheet music back to the publisher.
"Every time the New York Philharmonic plays certain pieces," Grimshaw explains, "they might get the parts sent from as far as Germany and sent back again. There are limited suppliers."
Among other things, this hire system is a modest method of copyright control — like record companies, sheet music companies are always fighting an uphill battle against piracy — which has been integral to the functioning of the music publishing world for centuries. This means that publishing companies still house large paper music libraries, with limited sets of material per piece. So if your university orchestra wants to attempt, say, the full orchestra version of Gershwin's Rhapsody in Blue, there is no easy, eBook-style "download and read" option available to you. You have to wait your turn for the materials to be ready for you, and send them back to the publisher when your performance is over.
The prospect of tablet performance means that this long-long-standing tradition would be overhauled entirely, and therefore, publishers are worried about keeping their copyrighted material secure in digital form.
Today, companies are scrambling to prepare by making sure all of their material is available in PDF form, but still lack set ways to encrypt and control the materials. Some of them leak out on sites like the International Score Music Library Project — a compilation site, organized something like Wikipedia, devoted to organizing public domain sheet music. But like YouTube, plenty of unsanctioned stuff goes up, and it takes music publishers rooting around to catch these.
For Cohen, it's essential that these new digital sheet music editions not just emulate or be comparable to paper, but come with new advantages. Sheet music needs to be at the vanguard and be right in the ring experimenting.
"Tido is not about the sexiness of digital," Cohen clarifies. "It's just what digital allows us to do, which is to show and hide things dynamically, to add annotation on top of an existing base text of notation, interact with social media, do screen refreshes and page turns."
The most basic — and important — function of Tido's coding is its ability to automatically rearrange lines of sheet music (or staves) when the tablet is flipped, and carry out other sensitive, music-specific zoom and even "slicing and dicing" functions that cannot be done easily using PDFs. The company has also developed impressive functions for skipping around within a piece easily, and making and saving neat marks and wholesale alterations, with a stylus or without. This means that performers can readily doctor their music based on their personal preferences.
Tido's first editions are mostly focused on the educational market rather than large ensemble performance. Its "Piano Masterworks" editions incorporate video, playback audio, and heavy annotation to help young soloists learn appropriate technique. Its most high profile project at the moment is a new Faber-helmed product done in collaboration with renowned concert pianist Lang Lang. The app demonstrates Lang's own personal instructional system for young piano students, using interactive sheet music with self-written exercises and demonstrations. A presentation this week with a young student was a huge success.
"They had to turn people away," Caprioglio mentioned. "It was the biggest event they had had at the Beijing Apple store. By the night after, they had sold 12,400 apps."
Grimshaw confirms that some publishing companies are discussing a prospective large-scale digital repository service — a one-stop shop, a la an audio streaming service — where tablet-readable, copyrighted sheet music would be downloadable and available in a format that would suit the needs of performers, publishers and composers alike. That would mean, as in Tido's case, something "smarter" than a PDF.
Making a one-stop shop viable means that most or all publishing companies will need to put their weight behind one project — not only for monetary support, but so that customers can get the biggest variety of sheet music through one service. This — just like in the music streaming service wars — is a hard check to cash in an industry full of entities with slightly different ideas about where things are going. Tido's vision and that of future prospective companies may align, or they may morph into competing services — only the future can tell.
The classical sheet music publishing industry is infinitesimal compared to the music streaming market. Therefore, resistance to a multi-company collaborative project like this on the part of individual corporations could be disastrous for new services staying above water financially, and for the long-term future of the sheet music industry as a whole.
"The worst scenario is either that you'll have to open very different apps to play different pieces of music that you get from different publishers — say, one for Prokofiev, one for Britten … or that nothing will happen," Grimshaw argues.
Then there's the issue that the digital change will happen before the needed amount of music is available in a marketable digital format — if the online shop is not big enough — which could mean an unfortunate drop-off in the musical diversity of performances.
"What's already happening is, the best-selling titles are going to be okay," Grimshaw continues. "But if you're looking for something that only gets performed once every ten years or even two years, those things are going to become increasingly more difficult to get a hold of."
A big long-term effect of this could mean the complete proliferation of something that is already beginning to happen: living composers and the estates of deceased composers whose music is under copyright will detach from publishing companies entirely and self-publish, which would be ultimately detrimental to the sheet music publishing industry.
But special tablets or no tablets, or the sheet music equivalent of TIDAL or no, this industry will, inevitably, have to go digital — in some way, shape, or somewhat scrappy form — in the near future. With classical music organizations of all stripes losing money, and postage costs for sending bulk music back and forth skyrocketing, it is becoming nearly a necessity.
Grimshaw offers one example of a growing concern: "One major European distributor of hired music [music that is rented to groups on a per performance basis] in one year billed 1 million euros in postage. If they spend a million euros, then all their customers no doubt spend the same amount getting it back to them."
The shift will doubtless happen before all the perfect requirements have been met, just as it is already happening on the small stage. But larger groups, too, may well begin to scan and tablet-read at least a healthy fraction of their material, whether they can interact with it optimally or not, using more primitive PDF reader apps for musicians.
People who are working at the vanguard of the industry, like Cohen, see a more expansive future coming very soon, including the proliferation of functionality to convert existing PDFs and other notation files relatively easily to the Tido platform.
"In 2016, we'll be focusing on choral and vocal music — since we think choirs will be very receptive — and we will get to orchestral in the next 18 months," Cohen explains. "But we need an orchestra who wants to test with us." He adds that the London Symphony Orchestra and Leipzig's Gewandhaus Orchester among others, have expressed tentative interest.
In terms of tablet performance, he believes that more "digitally native" concert halls conducive to tablet performance will pop up, noting that the LSO's conductor Simon Rattle is in the planning stages for building a modern concert hall along these lines.
"There is a feeling that is growing through the music librarian community that there has to be a change, and that change is coming, and that it's becoming more and more clear in what format that change could occur."
If the money stays somewhat in place, the classical music industry will not implode without moving into the 21st century technologically. But in order for it to have a smoother and more profitable future — and keep breaking even — companies will need to work with one another, and the inner workings of music ensembles will have to change dramatically.