Lego Caves to Chinese Artist Ai Weiwei, Will Sell Political Bricks in Bulk
"Lego is a language which everybody can appreciate and should be able to use it according to their will."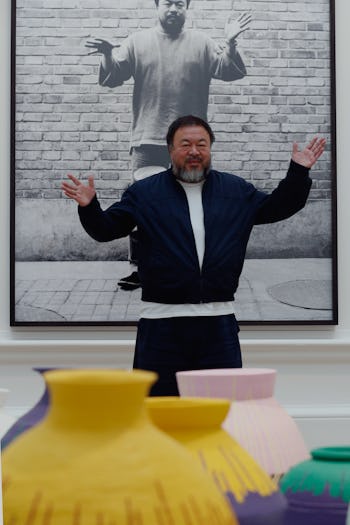 Getty Images
Lego has reversed its long-standing policy to refuse bulk order sales to those expressly intending to use their bricks "for political purposes."
The move comes not long after the iconic brand's P.R. team had a bad October. Lego decided not to sell bricks to Chinese artist and dissident Ai Weiwei. Ai had announced his plan to use them to depict imprisoned political prisoners from around the world for an Australian exhibition.
The prohibition elicited a firestorm of criticism, resulting in wide international media coverage and enough individual donations that the artist's supporters set up collection centers in several major cities. In tweets on the topic, Ai referred to Lego's response to his request as "an act of censorship and discrimination."
With the policy change, he has altered his tune. "Lego is a language which everybody can appreciate and should be able to use it according to their will, and that's what all freedom of expression is about," Ai told The Seattle Times by phone from Germany, after hearing about the company's change in policy. Ai also posted several photos of himself covered in Lego bricks to Instagram.
Having spent considerable time under house arrest for making art the Chinese Communist Party did not like, Ai has become an international symbol of the struggle for basic rights such as freedom of expression. His critics pointed out that the Lego policy is consistent and that the company has gone so far as to reject a request for blocks to build models of the U.S. Supreme Court justices. But Lego apologists were few, a rarity for one of the world's most valuable brands.
There is a certain absurdity to a company that produces any kind of artistic or creative medium placing limits on how it may be used. Imagine a company that makes paint refusing to sell its products to someone who intended to make a political painting. Even if Lego is an iconic brand, considering the number of ways Ai could have obtained comparable material either from resale outlets or knock-off producers, the ban seems misplaced.
A spokesperson for Lego confirmed in a statement to The Seattle Times that the change reflected the company's commitment to human rights and freedom of expression:
"We always have and continue to do — this is at the heart of what Lego play is all about. … We hope the new guidelines will make it more clear what we stand for."
In going totally laissez-faire, Lego stated that it will no longer ask for what purposes the products will be used. The company is merely making clear it doesn't sanction displays. But in 2016, we know retweets are not necessarily endorsements, and Lego bricks are their own medium, free from corporate involvement. You're free to build as your conscience sees fit.