'The Revenant' Is the Worst Type of Oscar Bait
Will the movie coast to a Best Picture nod based on behind-the-scenes drama alone?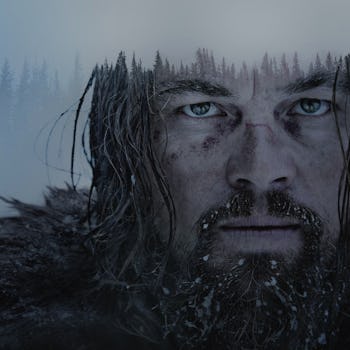 www.facebook.com/RevenantMovie
By now you've probably heard about The Revenant. You've heard about how the production went to far off locations to capture unspoiled locales meant to heighten the film's unwavering realism. You've heard about the physical and mental anguish behind the freezing temperatures and more that the cast had to endure to achieve their performances, which was more reacting than acting. You've heard about lead actor Leonardo DiCaprio scarfing down raw bison liver and sleeping in animal carcasses to embody his stranded woodsman character Hugh Glass, and you've heard of Tom Hardy's signature intensity that culminated in an on-set scuffle with the mad scientist behind it all, director Alejandro G. Iñárritu. What you haven't really heard about is anything noteworthy about the actual movie, and that's on purpose. That's because The Revenant has been positioning itself as Oscar-worthy from the get-go, all but daring the Academy not to reward its grittiness. This might be a fair strategy, in fact, but for one thing: The movie isn't good enough to deserve the attention coming to it. This is cynical.
It looks like it's working too. The movie basically cleaned house at the Golden Globes this year, taking home the top awards for Best Performance by an Actor in a Motion Picture - Drama, Best Director, and Best Motion Picture - Drama. The Golden Globes aren't necessarily the be-all-end-all Oscar predictor, but they're basically the best dry run we have. All things considered, The Revenant is primed for its Oscar push come February, with the stars and director slyly gaming the system by perpetuating the movie's own notoriety. Its self-mythologizing plan is putting it right on track for an Oscar or two (or five), which is exactly what Oscar bait tries to accomplish.
These are the types of movies that are made for the sole purpose of earning some sweet, sweet Academy Awards nominations. They're normally lavish epics or period dramas, often set against tragic events and their strategic late November-into-December release dates ensure they stay fresh in the minds of Academy voters before they need to cast their annual ballots for the fateful ceremony. It's all, more of less, right in The Revenant's wheelhouse.
What slightly separates The Revenant from other Oscar bait movies is that it's been able to mask the cliched prestige-ness of previous flagrant attempts for awards hardware like Shakespeare in Love, Braveheart, Extremely Loud and Incredibly Close, or The Weinstein Company's recent awards power moves that crowned such forgettable movies as The King's Speech or The Artist. The Revenant isn't maudlin or as obvious as normal Oscar bait movies purport to be, but it's just as blatant.
Iñárritu is the type of overindulgent filmmaker who's been gunning for this holier-than-thou position since he began getting Oscar traction when his debut film, Amores Perros, was nominated for Best Foreign Language Film in 2000. Birdman's Oscar win last year gave him the springboard and the cultural clout needed to go gritty and push the envelope with what he could get away with. He figured now's the perfect time to tout what is being situated as his magnum opus, and he's doing everything he can to make sure everybody knows how significant his creation truly is.
The narrative on the movie so far has been "What you're watching is important," "You should learn something from this movie," and, "Look how difficult it was to achieve such greatness." Think that judgment is a little too harsh? In an interview with the Financial Times](http://blogs.indiewire.com/theplaylist/this-film-deserves-to-be-watched-in-a-temple-alejandro-gonzalez-inarritu-talks-the-revenant-20160104), Iñárritu, without a hint of irony, said, "This film deserves to be watched in a temple." Count it as one of if not the most audacious thing a filmmaker has ever said about their own movie.
Just because Leonardo DiCaprio constantly says it's "the most difficult film I've ever done," or because actors were driven four hours out of the way in the snow to shoot on location doesn't qualify the movie as important or good — doubly so whenever the filmmaker seem to stop at nothing to ram that idea down your throat. The movie does have other worthy achievements. The graceful, fluid cinematography is the type of immaculate example to show skeptics who think movies aren't an art form, and the haunting and dissonant score by Ryuichi Sakamoto, Alva Noto and Bryce Dessner is unforgettable.
But don't mistake a difficult movie with a great one. Ultimately Iñárritu made the movie more of a chore than he needed to, forgetting the audience and focusing on the prizes he knew might await. If you find it a grind to get through, don't feel bad. He never made it for you.