The New Trailer for the Coen Brothers' 'Hail, Caesar!' Is One Big Goof
The short clip highlights stars Ralph Fiennes and Alden Ehrenreich.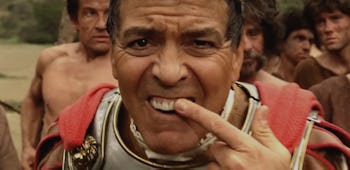 'Hail, Casear' Facebook Trailer
The Coen Brothers' newest project is shaping up to be a madcap comedy, roughly in the tradition of lighter fare like Burn After Reading or O Brother, Where Art Thou? Years ago, the Coens called the long-gestating project the third in their "Numbskull Trilogy," with O Brother and 2003's underrated pseudo-romantic comedy Intolerable Cruelty.
A new clip highlights two of the stars among a dense ensemble cast — Ralph Fiennes and Alden Ehrenreich — attempting to get the enunciation right on a line for a film Fiennes is directing.
Fiennes wears the classic, '40s/'50s self-important director outfit, featuring a tasteful neckerchief, and the goofball sense of humor recalls classic screwball comedies and making-of-the-film Hollywood films from this time period like Preston Sturges' Sullivan's Travels or Vicente Minelli's The Bad and the Beautiful. It looks like something that's going to fit perfectly into the Coen's nostalgic wheelhouse.
The cast also stars Josh Brolin in a lead role as a "fixer" who protects the bad reputation of Hollywood starlets. There are also Coen regulars George Clooney and Frances McDormand, and there's a host of other widely beloved faces: Tilda Swinton, Jonah Hill, Scarlett Johannson, Channing Tatum, Christopher Lambert (aka the Highlander) and Girls sideman Alex Karpovsky.
Expect outright goofy comedy (Clooney in a centurion costume) with a few shocking twists — sex and crime-related, no doubt.
Hail, Caesar hits theaters February 5th.
For more plot information, watch the old, more lengthy trailer below: