This New Trailer for 'The Witch' Is Scary as Hell
Who knew 17th century New England could be so terrifying?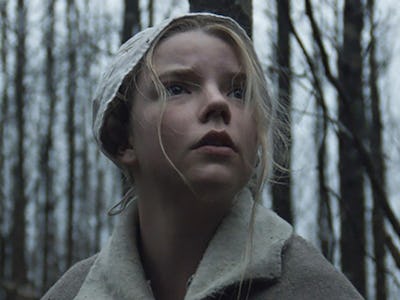 A24
The new trailer for A24's scary-as-hell new movie The Witch just popped up online, and though it doesn't feature any big jump scares or too much gore, its puritanical creepiness and goat demon Black Phillip is sure to put it in the running for scariest movie of 2016.
Directed by newcomer Robert Eggers, the movie premiered at Sundance in 2015 where it received heaps of positive buzz before it became the first movie acquired out of that year's festival.
Heres the synopsis:
"New England, 1630. Upon threat of banishment by the church, an English farmer leaves his colonial plantation, relocating his wife and five children to a remote plot of land on the edge of an ominous forest — within which lurks an unknown evil. Strange and unsettling things begin to happen almost immediately — animals turn malevolent, crops fail, and one child disappears as another becomes seemingly possessed by an evil spirit. With suspicion and paranoia mounting, family members accuse teenage daughter Thomasin of witchcraft, charges she adamantly denies. As circumstances grow more treacherous, each family member's faith, loyalty and love become tested in shocking and unforgettable ways."
Think on thy sins when The Witch hits theaters — and your nightmares — on February 19, 2015.