Tech
Cadillac's first all-electric crossover now has an official price
The Cadillac Lyriq will roll into customer driveways beginning this fall.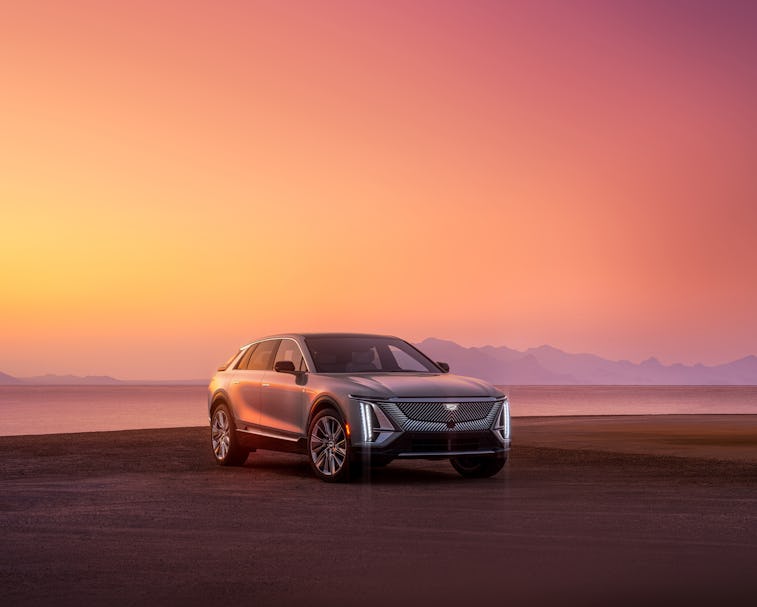 Cadillac first showed off the Lyriq, its first fully electric vehicle, almost two full years ago now. In the intervening months, Cadillac announced that the Lyriq would only be the very beginning of its EV ambitions, with a goal of turning the brand all-electric by 2030. But details about when and how consumers could actually buy the Lyriq have been scarce, to say the least.
This week Cadillac finally broke its silence by putting the Lyriq's starting price in the books. The 2023 Cadillac Lyriq "Luxury" edition will start at $62,990 for the RWD model, while the AWD model will bump the price up to $64,990. Early reservations for the "Debut" edition of the Lyriq will come in at $59,999.
Against all odds, the company is planning to release the luxury crossover this fall, though those who reserved the Debut should actually see their vehicles arrive sometime this summer. Orders for both the single-motor RWD trim and the dual-motor AWD trim will go on sale this Thursday, May 19, at Cadillac's website.
Priced for luxury — As you might expect from a brand-new Cadillac, the price point here reflects the company's commitment to luxury. Cadillac isn't aiming at the same audience as Chevy is with its $33,500 Bolt here. Tesla's Model Y — which happens to start at $62,900 as well — is closer to where the Lyriq will land.
The Lyriq's interior and exterior are both as sleek and forceful as you'd expect from a Cadillac. New design elements like a 33-inch curved touch display — all the way across the front dashboard! — add some modern flair to the existing Cadillac formula. Features like Super Cruise (hands-free driver assistance), over-the-air updates, and active noise cancellation make that price point more palatable.
As far as practical specs go, the RWD Lyriq is expected to get around 312 miles on a full charge, just six miles less than the Model Y. The AWD trim's driving range has yet to be rated by the EPA.
Just the beginning — The Lyriq is built on Cadillac's new Ultium platform, which packs in the largest-capacity, most-compact battery cells possible in the floor of the car. This platform will be used for many more Cadillac vehicles in the future; the company has promised 20 or more EVs by 2023, likely a mix of hybrids and fully electric vehicles.
GM is so committed to an all-electric future, in fact, that it told Cadillac dealers back in November to either get on board or stop selling the brand's vehicles.
Watch: Extreme Reviews