Tech
Mercedes-Benz's EQB electric SUV just got an official price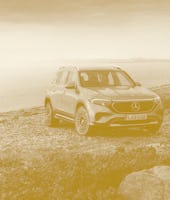 The EQB's starting price.
When Mercedes-Benz showed off the details of its absurdly fancy EQS electric SUV earlier this year, we took some time to mourn the fact that we'd never be able to afford one. Well, it turns out the German automaker has another all-electric SUV offering for those amongst us who can't afford near-six-figure luxury vehicles.
The 2022 EQB, which is set to arrive in the U.S. sometime this summer, is a more compact, low-key SUV, and it has a price tag to match. The EQB's starting price is just $56,800 (including delivery fees), making it the most affordable electric vehicle yet. That makes the EQB just under $50K if you include the U.S.'s $7,500 in EV tax credits.
While it won't be the least expensive electric SUV on the market — Subaru's Solterra starts at just $45,000! — it is significantly less expensive than the most popular SUV EV, Tesla's Model Y.
Two trims — The EQB will arrive this summer in two versions: the EQB 300 4MATIC and the EQB 350 4MATIC. Both have the same battery, with a max voltage of 420V and a usable battery capacity of 66.5 kWh. The 350 model has a slightly higher 288 horsepower; the 300 model sits at 225 horsepower.
Each version comes in either the Exclusive or Pinnacle trim — each with its own range of features. Here are the prices on each (if you don't add any other luxury features):
EQB 300 4MATIC Exclusive: $55,750
EQB 350 4MATIC Exclusive: $59,300
EQB 300 4MATIC Pinnacle: $58,300
EQB 350 4MATIC Pinnacle: $60,350
The lower-end Exclusive trim still has a slew of nice features, like inductive wireless charging, NFC pairing, a high-end sound system, and keyless entry. The Pinnacle trim has a panoramic roof, a surround-view camera, and an even better sound system.
More to come — Price point is obviously an important factor here, as the lower-than-expected starting retail will certainly give the EQB a leg up in the quickly-crowding EV market. But Mercedes-Benz is still withholding some key details about the EQB, including its estimated driving range. The pricier EQS, meanwhile, is rated at 372 miles per charge.
Traditional automakers are finally dedicating real resources to developing all-electric vehicles, and SUVs are quickly becoming one of the most popular EV options. The EQB, with its competitive pricing and relative luxury, has a good chance of capturing a newly captivated American market.