CES 2022
CES 2022: Everything you need to see
Keep up with all of Input's CES 2022 coverage in one place.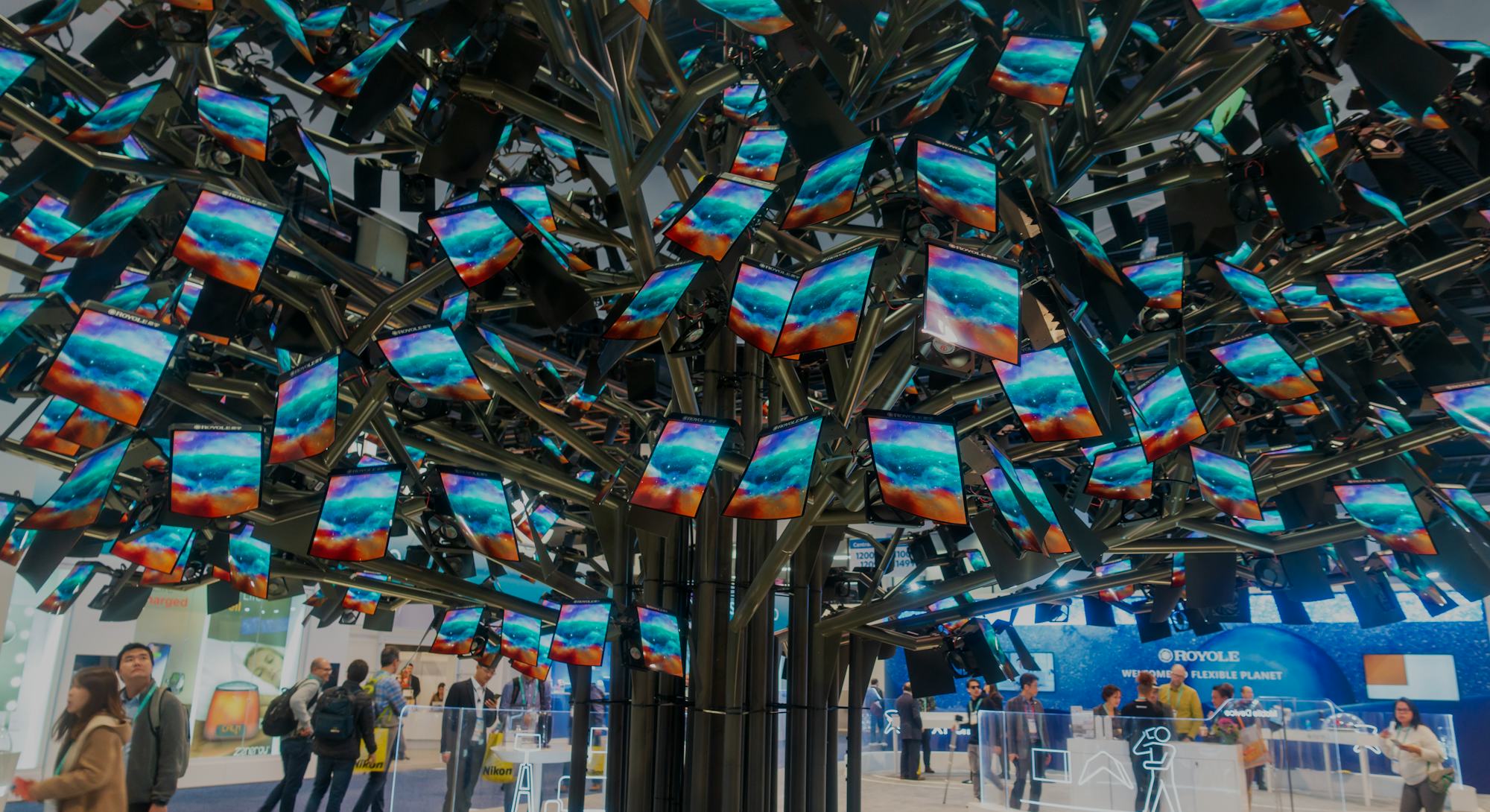 VCG/Visual China Group/Getty Images
CES 2022 is officially on, omicron surge be damned.
The huge electronics show is a little smaller than usual this year — quite a few exhibitors have dropped out due to the aforementioned surge — but it will, nonetheless, take over Las Vegas from January 5 to 7. Vaccination is mandatory for all in-person CES attendees, and everyone will be gifted a two-pack of rapid antigen COVID tests upon arrival. Organizers at the Consumer Technology Association (CTA) also decided to drop the last planned in-person conference day as an additional safety measure.
The Input team has decided to cover the event virtually this year so we don't all end up with COVID at the same time. After last year's all-digital event, this year's hybrid CES still has us stoked. The conference promises tons of reveals and next-gen demos from both well-worn favorites and new companies we're sure to fall in love with. (And likely ones we'll hate enough to rag on in blog posts, too.)
We'll be keeping this page updated with all our favorite gadgets and innovations we see (virtually).
Fri 1/7: The End
Today is the last day of CES 2022, and it's just as chaotic and eye-opening as the rest. Hey, at least we don't have to worry about spending any time in an airport tomorrow, right? Looks like that's going to be the case for this year's E3, too. We're not complaining!
What we are doing is clocking out for the weekend, and we hope you do too. But first:
Thurs 1/6: Day Two
Happy Thursday, CES-ers, or, as we like to call it, the Hump Day of CES. Today would be the perfect day to get lost in the maze of the showroom floor, in a world where COVID didn't exist. Wait, before we get started, though, can we talk about these suckling robotic plushies for a sec? We can't stop thinking about them.
Finished staring yet? Okay, good, because we have something else terrifying to show you. Meet Pedia-Roid, a truly uncanny robot made for training healthcare workers. Its skin is reportedly as soft as a human's, but please don't be weird about it. Should be helpful in hospitals, though!
Have we mentioned how crowded CES is this year? If we haven't, that's because it's not. We sent a photographer around the conference to show us just how sad it is this year. Suddenly our FOMO is nonexistent.
In less depressing news, Bob the mini washing machine will be arriving by the end of the summer to finally do those dishes piling up in your sink. Actually, it can only hold like six plates, so you might want to wash some on your own in the meantime. Your future self thanks you.
Have we mentioned Ayaneo's Steam Deck clone yet? This thing is more powerful than my laptop. (And more expensive.) Are we living in the golden age of handhelds? Hey, as long as we can play Smash MAGA on it and release some of this pent-up anger...
Okay, tomorrow's the last day of this shindig. Here are a few more links to pore over while you wait for the Tylenol to kick in:
Wed 1/5: Opening Day
Hey again, tired of us yet? Hopefully not, because today is the first actual day of CES. That means the showroom floor is officially open, chock full of bizarre robots, useful tech, and lots of people wearing blue surgical masks. We're not on the floor ourselves — both a blessing and a curse — but we'll be checking in virtually to cover anything and everything weird and interesting. CTA President Gary Shapiro kicked things off with a "State of the Industry" presentation at 8:30 a.m. in Vegas, and then? Full speed ahead.
Okay, first we need to talk about Razer's second Zephyr Pro mask, which is more cyberpunk and dystopian than ever. And doesn't Input senior editor Ray Wong look great in it? Razer also showed off a very Razer take on a gaming desk and a gaming chair.
It's been a big day for next-gen VR products, too, like Shiftall's lightweight headset and, um, VR muzzle? VR gag? We're not really sure what to call it, but we're not not into it. HTC's got a new wrist-tracker to go along with its Vive Focus 3 headset along with some other, more traditional accessories.
Now, there's nothing traditional about Lenovo's ThinkBook Plus Gen 3, which squishes the keyboard to one side in order to jam a second display beside it. The only thing more unhinged than this laptop's 21:10 aspect ratio and keyboard-adjacent touchscreen is Input writer Ian Carlos Campbell's suggestion on where else you might be able to fit a display. (It's SFW, we swear).
Speaking of squished, Triggo's back with its shape-shifting buggy... thing, for when you want to go full Inspector Gadget on the way to get vegan popcorn chicken from KFC.
Anyway, it's time for us to rest our weary little hands now. Yes, I meant to say hands, can't you see all this typing we've done?
Tues 1/4: T-minus 1 day
Today is the second pre-CES media day, which means back-to-back presentations from some of the convention's biggest exhibitors — and plenty more product reveals (AKA tons more gadgets we can't wait to get our hands on). Like this self-heating lunchbox that steam-heats your leftovers in minutes. Or this living, breathing computer case that's equal parts awe-inspiring and uncanny.
The computer nerds amongst us (read: all of us) really came out on top today, though. Intel revealed its new H-Series processors that can allegedly beat out even Apple's M1 Max. Dell's XPS 13 Plus has us excited about touch bars again, somehow. AMD is showing off a new budget GPU called the Radeon RX 6500 XT (phew, that's a mouthful). Meanwhile, NVIDIA pitched a new entry-level GPU and a new high-end card that'll retail for $1,499.
Not one to be outdone by the competition, Sony finished off the day by presenting... Tom Holland. Literally Spider-Man. Oh yeah, and PSVR 2.
But, of course, that's not all. CES technically may not have even started yet, but we're already seeing flying cars, home robots, and screens that make our brains hurt. Buckle up:
Mon 1/3: T-Minus 2 days
The CES showroom floor doesn't open up until Wednesday morning in Vegas, but that won't stop exhibitors from sending press release temptations in the meantime. Samsung went for an early head start in the smart TV department, showing off a new built-in NFT aggregator that'll ship with all its 2022 televisions. Those new TVs will come with an Eco Remote that can charge wirelessly via radio signals. Yes, really.
That's all well and good, but what we really need in our lives is this self-filling bathtub. Anyone got $3K to spare? Anyone? Well, that's OK. All our home spa really needs is a smart hair dye wand, anyway.
Here's what else caught our attention today:
Pre-show Jitters
Some of our favorite brands used the weeks leading up to CES to show off their forthcoming tech innovations, too.
Dell showed off a modular laptop called Concept Luna that could radically change sustainable computer design; LG, meanwhile, took a dive into the cold, crowded waters of the gaming laptop market. Samsung is expanding its aesthetically pleasing Bespoke kichen lineup to the next level and LG's new microwave/stove combo is going to help you order every ingredient you need for that new recipe. LG is also an early contender for strangest CES reveals, with its weird 16:18 monitor and OLED television throne.
There's lots more to come, so check back regularly as we recap our CES 2022 thoughts throughout the rest of the week.
This article was originally published on