Style
Balmain's chunky 'Unicorn' sneaker is as extraordinary as its namesake
Built of eight sectional molds, the $1,200 shoe looks like something between Yeezy and Blade Runner.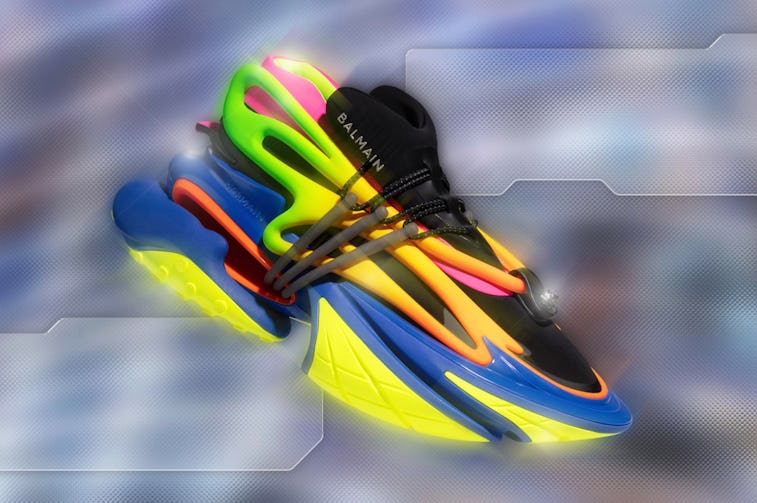 Sneakers keep getting weirder, as evidenced by Adidas Yeezy, Converse, and now Balmain. The luxury label has introduced its Unicorn sneaker, a shoe built with what it calls "sculptural flair and unique construction." A silhouette as extraordinary as its namesake, the Unicorn layers angled panels to create a sleek yet stacked upper, while translucent ropes tie the individual pieces together.
Since becoming creative director of Balmain in 2011, Olivier Rousteing has sought to disrupt typical sneaker design and has certainly achieved his goal with the Unicorn. Keeping Rousteing's "renewed French style" in mind, the experimental sneaker takes inspiration from Balmain's archives as well as Don Aronow's aerodynamic speed boats (also known as cigarette speed boats). The end result is something between Yeezy and Blade Runner.
Chunky yet streamlined — Although it's hard to pick one part of the Unicorn to look at first, its curved sole is hard to miss. Built with Balmain's innovative tech, the sole is crafted from eight sectional molds that come together to encase the brand's shock absorber cushioning system. A hole at the back of the sole unit — placed between the midsole and outsole — then (literally) ties the sections together with translucent ropes that wrap around the shoe's upper.
Up top, the sneaker flaunts tiered matte rubber panels that splay out across its leather sides like butterfly wings. Balmain's namesake branding appears by the shoe's lace unit — a plastic nub housing elastic laces — as the brand's signature lion head motif hits the tip of the eyestay. Logos seem to be kept to a minimum on the Unicorn in order to let its design truly shine.
One-of-a-kind — So far, Balmain's campaigns have shown the sneaker in black, white, beige, orange, and neon rainbow iterations, with each sneaker more statement-making than the last. Official imagery displays the Unicorn against a holographic background in line with the shoe's futuristic look.
If you're ready to rock a sneaker like no other, pairs of the eclectic silhouette are now available at the Balmain website, with prices starting at $1,195. Consider the cost reasonable for kicks as uncommon as the Unicorn.