Style
Ninja and Adidas are launching three more sneakers and two pairs of slides
Consisting of the ZX 2K Boost 2.0 and Adilette Boost.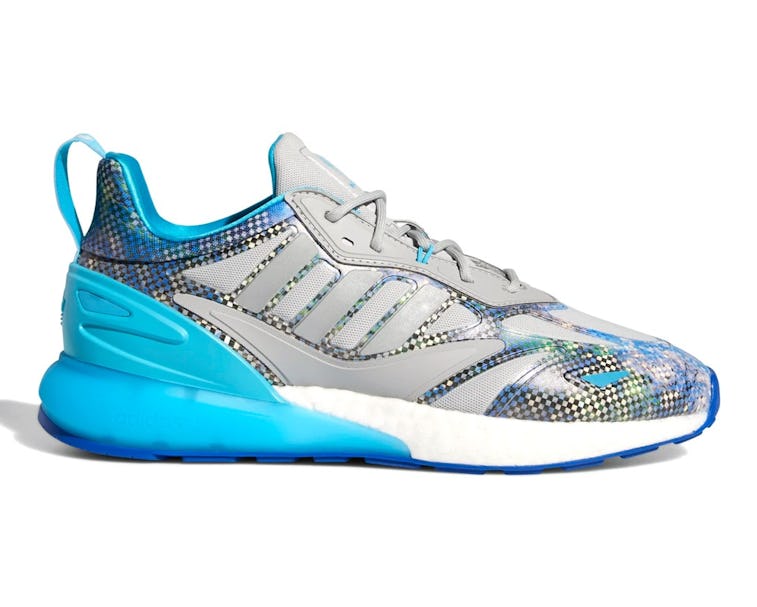 After a prolific year of collaborations in 2020, Ninja and Adidas are back with their first new collection of the year. Any time spent waiting is made up for by the scope of the streamer's "Time In" capsule, with three versions of the ZX 2K Boost 2.0 and two variants of the Adilette Boost set to release at the end of the month.
All five shoes make use of Ninja's signature shade of blue, including one ZX 2K Boost 2.0 and a pair of the slides that keep things simple with a monochromatic color scheme. The rest of the kicks, however, are much more animated by a colorful and vaguely digital gradient checkerboard print that envelops the upper.
One pair of the ZX 2K Boost 2.0 features an allover print of the dazzling pattern, while the other tones it down by tucking it away underneath a semi-translucent cage with predominantly white accents. As sneaker brands and even luxury outfitters like Gucci wade deeper into gaming, Ninja's Adidas releases continue to be among the very best by keeping the connection loose.
Adidas
Adidas
Adidas
Adidas
Adidas
So much Boost — The first ZX 2K Boost released last year and continues to be a mainstay in Ninja's Adidas collabs through the 2.0 version. Sitting somewhere in between a low- and mid-top, the second iteration features a tongue unlike its successor while still offering more of a sock-like fit than you'd expect from a sneaker of its complexity.
The Adilette Boost, meanwhile, is a supremely comfortable slide thanks to its namesake Boost cushioning. At $80, the price is higher than you'd typically pay for a pair of slides — but you're unlikely to find another that feels so great underfoot.
Ninja's latest take on the sneakers and slides are set to release next Tuesday, August 31, through Adidas' website. Each of the ZX 2K Boost 2.0s will retail for $150, giving fans two different price points to rep the most popular streamer in the world.