#Krissed
Getting #Krissed is TikTok's answer to the classic Rickroll
This old clip of Kris Jenner makes for the perfect playful deception.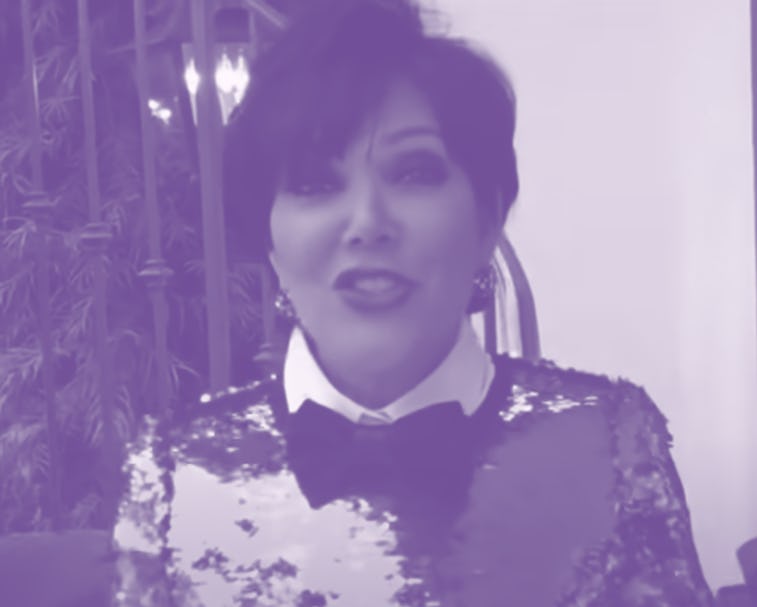 TikTok's relentless appetite for novelty has yielded a new trend that plasters a decade-old clip of Kris Jenner all over For You Pages. It taps into the same type of humor that has made Rickrolling such a timeless internet gag.
Here's what it looks like to get #Krissed: This TikTok from @ryan.roberts shows a doctored Instagram screenshot that makes it seem like Zendaya announced a pregnancy. In the screenshot, it appears that the Euphoria actress posted an ultrasound picture captioned "I love you. Halfway there" along with a tag for her boyfriend, actor Tom Holland.
But then the TikTok cuts to a sped-up video of Kris Jenner, clad in a garish green outfit, lipsyncing a Christina Aguilera song that's been sped-up Chipmunks style. "YOU JUST GOT KRISSED!🍸🤪🤗," text reads over the video.
(For what it's worth, Zendaya wasn't particularly happy about the rumor. "Just making stuff up for no reason...weekly," she wrote on her Instagram Story in response to swirling online pregnancy rumors.)
We're all getting #Krissed — Getting #Krissed is rather inescapable these days. It's a sort of Rickroll. TikTokers post intriguing lies — far-flung stories of affordable apartments in Manhattan or preposterous celebrity rumors — immediately followed by Kris Jenner's lipsync. You just got #KRISSED!
One example claims that Kendall Jenner announced she is pregnant, another claims that dancer Jojo Siwa is taking a break from public life, and yet another says that Millie Bobbie Brown's Stranger Things character would soon die. As you register the information, you're slammed with the reality TV star's ubiquitous face. Sike! Just kidding! You just got #Krissed, sucker!
The wave began after an account called @kardashiandramadaily (one of the various TikTok accounts that have racked up hundreds of thousands of followers for simply posting rerun clips from Keeping Up With the Kardashians) posted this video on May 25th. The seconds-long TikTok racked up 3.1 million likes and a flood of comments calling the clip a "masterpiece, a "cultural reset," and other sorts of hyperbolic praise that TikTokers give to these kitsch viral videos.
The now-viral clip originates from a homemade 2011 music video that the Kardashian family uploaded to Kendall and Kylie's former YouTube channel. In the clip, Kris Jenner wears a sparkly green dress, a black bow tie, and plum lipstick. With admirable commitment, she lip-syncs the lyrics "Gitchie, gitchie, ya-ya, da-da / Mocha Chocolata, ya-ya" from the (Grammy-winning!) 2001 cover of "Lady Marmelade" by Christina Aguilera. It's ridiculous, it's low-brow — it's got the ineffable hypnotic quality that attracts your attention like a magnet.
Say sike right now — A tiny blip in the algorithm's spin cycle, a trend so utterly meaningless and stupid that it's hardly making waves in capital-C Culture, these videos repackage the age-old playful deception that underpins all sorts of jokes, from "I've got your nose!" to "Made ya look!" to "Look, they wrote 'gullible' on the ceiling!"
Krissing subverts your expectations — the essence of so much comedy — and brings obscene amounts of uncomplicated joy. Getting #Krissed has earned the ubiquitous yet indefinable label of a "viral trend," but it's not anything particularly groundbreaking: it's just another way to say sike!