Culture
NASA blesses Jeff Bezos' Blue Origin with launch contract
With this contract, the future prospects of New Glenn get more serious.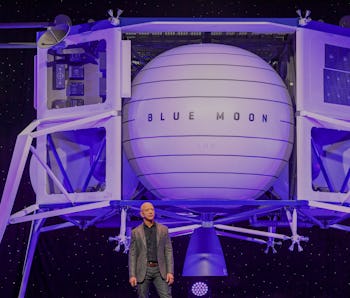 The Washington Post/The Washington Post/Getty Images
Jeff Bezos' space company Blue Origin has received the official green light from NASA for future space expeditions, the company announced on Wednesday. This particular contract, NASA Launch Services (NLS) Indefinite Delivery Indefinite Quantity (IDIQ), allows Blue Origin to conduct a range of space-relevant activities, including launching satellites, exploration, and observing the Earth from space.
"Project managers at NASA Centers around the country can now design spacecraft to take advantage of New Glenn's unique seven-meter fairing and heavy-lift performance for a broad range of missions," Blue Origin says.
What happens now? — The contract specifically centers on Blue Origin's New Glenn rocket, which is a 310-foot booster. The plan for Blue Origin is to launch New Glenn into space in 2021. Senior vice president of New Glenn, Blue Origin, Jarrett Jones, has said, "We are proud to be in NASA's launch services catalog and look forward to providing reliable launches for future NASA missions aboard New Glenn for years to come. The award builds on Blue Origin's existing partnership with NASA and will advance science and exploration to benefit Earth."
What you should know about New Glenn — With the ability to carry 45 tons into space, New Glenn is designed for intensive space exploratory programs. In contrast, it carries a "third more tonnage than SpaceX's Falcon Heavy," according to the Business Insider. Sorry, Elon.
For Blue Origin, NASA's approval is undoubtedly a boost of confidence for its public image but it's not the first time that NASA gave Bezos' space company the thumbs up. Earlier in May, Blue Origin was joined by SpaceX and Dynetics in receiving some $1 billion from NASA. The agency's financial reward was directed at helping these companies come up with designs for Artemis 3 mission's landing mechanism.
There are some problems, though — While NASA sounds happy with the direction Blue Origin is aiming for, Bezos has elicited attention and criticism for his outlandish comments about essentially turning outer space into an industrial zone for Earth's seemingly infinite garbage. "Our descendants are going to move all heavy industry off of Earth — all the polluting industry will be done in space where we have infinite resources for all practical matters and Earth can be zoned, light industry and residential," he said, as Input reported recently. "Earth can be this amazing garden." We're curious to know what NASA has to say about that.