Brrr
Tesla loses big on Bitcoin as 'crypto winter' sets in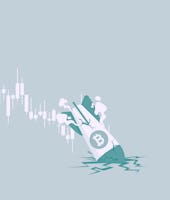 Tesla's losses so far during the cryptocurrency crash.
Shutterstock
The more you gamble, the more you can potentially lose — that's the lesson Elon Musk and Tesla are learning today as Bitcoin's value continues its bleak downward spiral in what many are now calling an industrywide "crypto winter." Across the board, both major and minor cryptocurrencies' worth has plummeted over the past few weeks, with the overall market losing billions of dollars this past weekend alone. As it stands at the time of writing, Tesla — which invested $1.5 billion in Bitcoin late last year — looks to have lost over $560 million, or around 40 percent of its total crypto assets according to data from Bitcoin Treasuries.
As Electrek notes, Tesla's "Bitcoin holding represents only 10 percent of its cash position and 0.1 percent of its total market capitalization,' but still, c'mon. That is an ungodly amount of theoretically wealth to suddenly be raptured up to Blockchain Heaven by the crypto gods.
Will Elon "hodl" the line? — It will be interesting to see how, or if, Musk responds to the market's abysmal turn. Previously, the CEO of both Tesla and SpaceX has been extremely bullish and vocal regarding his support for cryptocurrencies like Bitcoin and, although he's waffled a bit on accepting the cryptocurrency as payment for his own companies in the past.
It's entirely possible that Musk still views this as only a temporary downturn in a market that is already well established to be volatile as hell, and that he'll wait this slump out until values climb once again. On the other hand, it's anyone's guess as to how long this "winter" will last, or if it actually has a true end in sight. Crypto zealots continue to contend that everyone else is going to rue the day we didn't "buy the dip," but how long are they willing to hang out in said "dip" until they get skittish? Weeks? Months? Years? We haven't the slightest clue, but one thing's for certain — we're not gonna put any money down on a guess.