Weed
Puffco's new modular dab vape, Proxy, is a beautiful, beastly e-pipe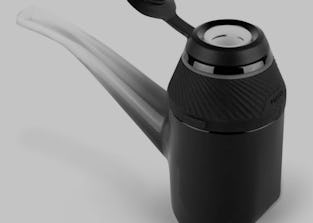 How much it'll cost you to dabble in luxury with The Proxy.
Puffco
Puffco
Dabs can seem pretty intimidating to those not versed in the ways of cannabis concentrates. There's all the insider jargon — rigs, torches, the varying colors — and the promise (threat?) of extreme potency, making the art of dabbing feel like you're playing pothead on expert mode. But it doesn't have to be that complicated.
Weed tech company Puffco has been working to break down some of the barriers around concentrates, and its newest product may be the most enticing yet. Last week, Puffco introduced a stunning new piece called The Proxy that's modeled after the design of a classic smoking pipe and uses 3D heating technology in the chamber to produce ultra-smooth vapor. Its glass bottom, or the "pipe" part, is removable for easy cleaning and, eventually, customization. And did I mention it's gorgeous?
Hot swappable — "Proxy is our first — and it seems like the industry's first — modular vaporizer," Puffco founder and CEO, Roger Volodarsky, told Input during a demo of the new device. "We made this specifically with the intention of it integrating better with the glass community. There's hundreds and thousands of glassmakers, pipemakers in this space, and we wanted something that they can all build around that would create limitless shapes and opportunities in the space for people to get creative with how they consume hash."
The modular design means glassmakers can create their own unique bases, for example, to house Proxy's 3D chamber. Want to mix things up with a pastel floral-print glass pipe instead of the smoked-out black? That's totally in the cards. The chamber simply lifts right out of the base, making it infinitely interchangeable with glass pieces made to the right specs. Honestly, though, it doesn't even need the extra flair — The Proxy on its own is a solid, stunning vaporizer.
When I tried it out over the weekend with some friends, all everyone could talk about was how sleek it looks. It's perfectly compact, being big enough to fit nicely in the hand and fill up with a modest cloud, but not so big it feels cumbersome. It comes with a neat little carrying case, too, for easy travel with the charger and your little wax tools. Proxy was made with portability in mind, and that comes through in every aspect of its build and packaging.
Ridiculously smooth — Proxy isn't all looks; Puffco is known for high quality weed products, and this one is no different.
It has four temperature settings and is designed to carefully apply heat only where it's needed most. When weed oil is heated from the bottom, as is typical, "it's degrading as it's heating up," Volodarsky explains. Proxy's 3D heating chamber heats it from the sides, helping to keep the oil intact longer.
"When you start inhaling," he says, "it spins the oil around the side of your bowls. What this means is that while your device is heating up and you're not inhaling, it is not vaporizing your oil nearly as much as previous atomizers have. Once you start inhaling, you are actually putting the oil where the heat is. And so the 3D chamber for us is making sure that the device is working when you're inhaling and keeping your oil safe when you're not."
When you hit this pipe, it truly feels like you're tasting luxury. Considering its $300 price tag, it better.