Tech
People are actually lining up at Apple Stores for the new AirPods
Welcome back, store lineups, we didn't miss you at all.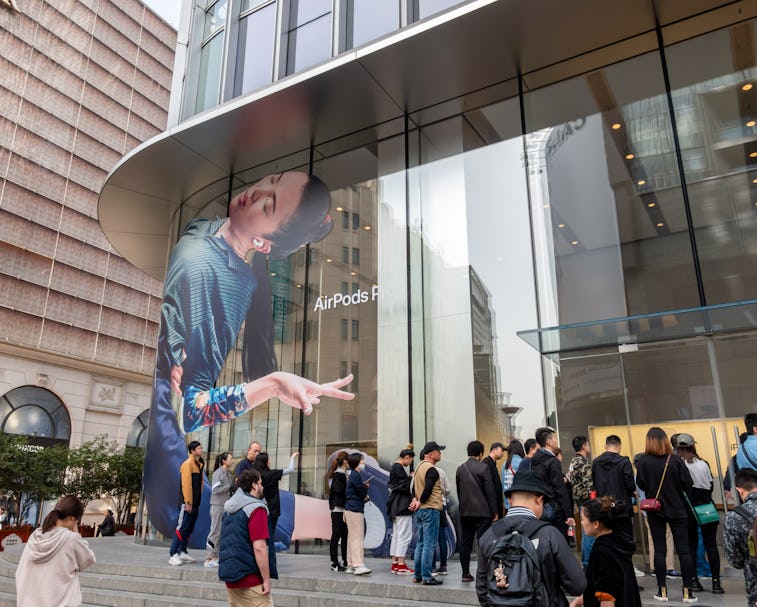 VCG/Visual China Group/Getty Images
Actual, physical lines — For the first time in a long time, Apple's gotten people to line up at their stores for something other than the latest iPhone. When the AirPods Pro were released Wednesday morning, some Apple Stores had full lines waiting to purchase them.
For...headphones? — It's not unusual to see people lining up at the Apple Store — especially on iPhone release day or for tech support at the Genius Bar — but it's not every day that people line up for headphones. At the Apple Store in Grand Central, lines snaked around the store by 8:10 am, when this photo was tweeted:
And the lines didn't let up from there: Business Insider reports that, by 1 pm, lines were still out the door, and representatives were estimating the wait at 15 to 20 minutes just to purchase the AirPods Pro. Similar reports were made from Apple Stores around the world, like this photo of an Apple Store in Shanghai:
Good news for Apple — Hype for new products is always in Apple's best interest. And it's pretty much unheard of for people to line up for headphones, so the demand for wireless earbuds of this caliber is obviously high. And, according to Input's AirPods Pro review, they're worth waiting in line for.