Tech
Pornhub's reckoning intensifies, Mastercard and Visa block payments
A recent NYT investigation concluded that the porn site has failed to crack down on illegal content, including videos presenting child exploitation.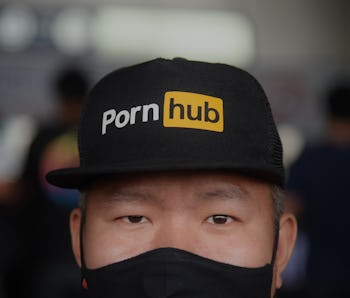 SOPA Images/LightRocket/Getty Images
Mastercard and Visa have stopped accepting payments for Pornhub, the second largest porn site and the world's tenth-largest site overall. The move by the two payments processors comes following a report earlier this week by The New York Times alleging that Pornhub turned a blind eye to illegal content, including videos that feature minors.
Pornhub makes its money from advertising and a premium subscription service. Users can also pay for access to exclusive videos, for which Pornhub takes a cut of sales. Arguably its biggest competitor, premium subscription site OnlyFans, generates more than $2 billion in revenue each year.
"Today, the use of our cards at Pornhub is being terminated," Mastercard told the Times. "Our investigation over the past several days has confirmed violations of our standards prohibiting unlawful content.... we continue to investigate potential illegal content on other websites." Visa for its part said it's suspending payments while it investigates.
YouTube of porn — The scandal highlights the dark side of 'growth at all costs' business models. Pornhub scaled to massive heights — more than 3.5 billion monthly pageviews — on the same model as YouTube, allowing anyone to upload videos to the site, utilizing moderators to remove harmful content. It's able to skirt responsibility for illegal content by saying that it removes videos when they're reported — ignoring the fact that people who visit Pornhub are looking to satisfy certain... fantasies, and may be less inclined to report videos. The Times found many questionable videos under search results for keywords like "13yo."
Pornhub came under fire last year for hosting videos from a production company that was widely accused of lying to women, telling them that the porn videos they appeared in would never go online when in reality the company would upload them to Pornhub, where the videos who go on to rack up millions of views. Any user on Pornhub can earn revenue from the ads placed alongside their videos, creating an incentive structure ripe for exploitation. After 22 of the women involved sued the production company, its owners and employees were hit with federal sex trafficking charges. Pornhub was criticized for waiting a long time before pulling the offending videos.
The Times article details other instances of non-consenual pornography appearing on Pornhub, in which people were coerced into filming or unknowingly recorded during sex acts only to discover later that the videos had been uploaded to the site.
Money talks — Pornhub is implementing several changes in response to the scandal, including shutting off the ability for anyone but verified users to upload videos — it intends to create a formal process for users to apply for verification. Critics quoted in the story believe that Pornhub needs to go further and verify identities of everyone who appears in a video, or only allow production companies to upload videos. But amateur uploads are what made the site so big in the first place, and going more professional could ruin the business model.
The company says it's disappointed that Mastercard and Visa are cutting it off despite the changes it's implementing. "This news is crushing for the hundreds of thousands of models who rely on our platform for their livelihoods," it said. It's unclear whether the announced changes will be enough to satisfy Mastercard and Visa. Considering the two payments giants represent a combined 90 percent of the credit and debit card market, Pornhub will have to act aggressively to clean up its act.
Letting the market fix the issue with Pornhub might prove the right way to do it. President Trump has tried to eliminate liability protections for social media platforms, but that could be harmful as experts fear platforms might be forced to overcorrect and remove lots of safe content. At the same time, new limits will somewhat diminish the original promise of social media as a free space for anyone. But the lax nature has come at a cost.