WWDC 2022
MacOS Ventura is about collaboration and continuity (and a clock app)
As expected, Apple showed off macOS 13 for the first time at this year's WWDC.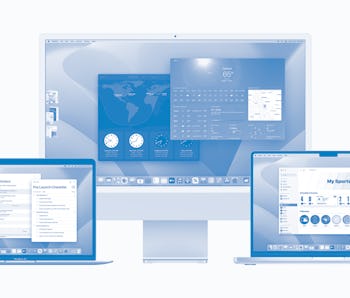 As usual, this year's WWDC has focused heavily on Apple's latest and greatest software offerings. Behold: macOS 13, nicknamed "macOS Ventura," which will be available to download this fall. The developer beta is available now; Apple expects a public beta to be ready for July.
Like its predecessor, macOS 13 makes mostly incremental changes to the ways in which the Mac lineup will work. Many of the new features focus on collaboration and improving continuity.
Stage Manager — Sometimes Mission Control just isn't enough to visualize your huge workflow. That's why Apple is adding a new feature called "Stage Manager" to macOS 13. Stage Manager basically opens one window for you and places all the rest in piles to the side of your screen. You can then cycle through the piles to open up different apps.
It's multitasking to the extreme — and it doesn't look all that useful from afar. Maybe we'll like it more once we try it?
New spotlight — The macOS Spotlight feature is about to get much more useful. Spotlight will now surface results beyond simple web searches.
Continuity — Handoff is being extended to FaceTime. Just bring your iPhone close to your Mac and you can move it to the computer seamlessly.
Stock app updates — The Mail app is finally getting some updates that are already standard on platforms like Gmail, including features like scheduled sends, undo send, and reminders. The app's Search feature should be smarter across the Apple ecosystem, too.
Safari — Apple's "trailblazer in privacy" web browser is getting Shared Tab Groups, which allow for collaboration with other Safari users.
The browser will also receive support for Apple's new Passkeys; they allow you to log in to sites and apps without passwords using Touch ID or Face ID. Passkeys will work across the entire Apple ecosystem, too.
Gaming...? — Apple is still trying to make gaming happen on Mac. The company's Metal APIs are being updated to work with Apple Silicon and (hopefully) help games run more smoothly on MacBooks and iMacs.
Resident Evil: Village is being released as a dedicated macOS app, supposedly to show off how Macs can run high-performance titles. Whether or not the AAA title will actually play well on the new MacBook Air remains to be seen.