Tech
Hyundai outlines the platform that'll underpin its electric future
Called E-GMP, the platform will form the basis for electric sedans, crossovers, and SUVs.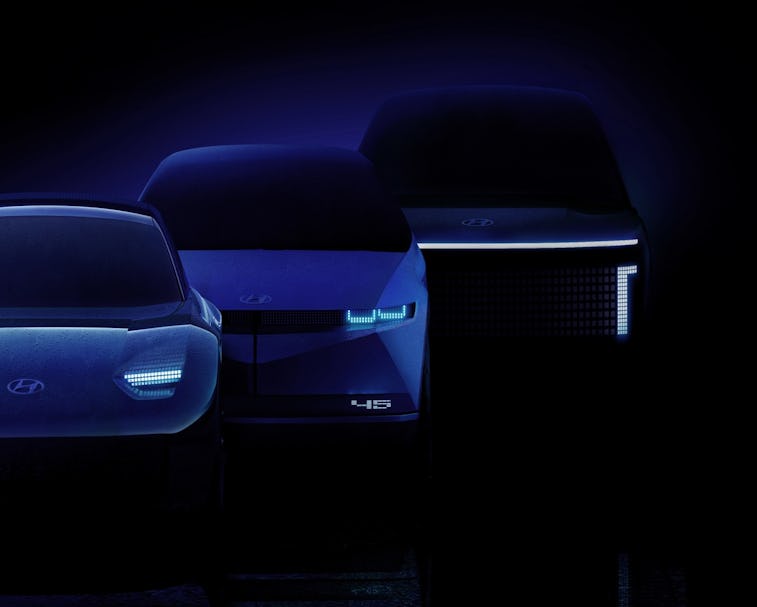 Hyundai
Korean automaker Hyundai has been teasing its forthcoming lineup of electric cars for over a year now, including three all-electric models. Now the company has unveiled its Electric Global Modular Platform (E-GMP) that will support all these vehicles.
According to Hyundai, E-GMP will allow for rapid development of new electric cars across a range of segments, from sedans to SUVs and crossovers. It includes a new electric motor system, EV transmission, and inverter that are integrated into a single package and will provide for impressive performance, like 0-60 mph times of around 3.5 seconds and top speeds around 162 mph. The battery packs, which are supposed to have 10 percent more energy density than existing EV batteries, will be mounted under the cars between the front and rear axle.
E-GMP is also set to have a bi-directional charging system that supports both 800V and 400V architectures, which will allow for faster, more stable charging. Hyundai has been investing in charging networks in Europe to speed up the deployment of stations capable of 800V charging.
Framework for the future — Car platforms like E-GMP are the basis for a vehicle's design, and include fundamental underpinnings like the chassis, drivetrain, and suspension. They allow automakers to bring down the cost of new vehicle development by sharing major components across a number of different vehicles, which may appear pretty different in terms of scale or design from the outside. Instead of building each and every vehicle from scratch, the cost of research and development can be spread out across several product lines.
"Our [battery electric vehicle] lineup will evolve and be strengthened by this innovative new platform," said Fayez Abdul Rahman, senior vice president of Vehicle Architecture Development Center at Hyundai Motor Group. "E-GMP is the culmination of years of research and development and brings together our most cutting-edge technologies."
Hyundai currently makes three all-electric cars including the Kona EV, Nexo EV, and the Kia Niro EV. With the new platform, it says it will expand its lineup to 23 electric vehicles by 2025.
The first Hyundai vehicle to use E-GMP will be the Ioniq 5, a mid-sized SUV based on the concept 45 that it first showed off in 2019. The car is expected to arrive in 2021. Following that, the Ioniq 6 sedan and Ionic 7 large-sized SUV are expected to hit the market in 2022 and 2024 respectively. Pricing for the vehicles is unknown, though for context the well-reviewed Kona EV is comparable to Tesla's Model 3 with a comparable range and starting price of $37,000.
All talk, thus far — Hyundai is the latest automaker to make bold claims about its electric future, saying it plans to sell one million electrified vehicles and grab 10 percent of the EV market by 2025. Just about every other legacy automaker has similar ambitions, but Tesla far and away remains the leader in terms of annual sales. And the company isn't resting on its success, with two new factories set to come online in the next year (one in Berlin, Germany and the other in Austin, Texas) and production of its next-generation battery slated for 2022.
There's one thing Tesla hasn't perfected yet that the competition has, however, and that's scale. The company expects to deliver about 500,000 cars in 2020 — marking its highest production levels ever, but that's still far fewer vehicles than the Ford's and GM's of the world produce. Hyundai sold 7.1 million cars worldwide last year alone, 126,000 of which were EVs. And Tesla continues to face quality control issues with its cars, like touchscreen failures, misaligned doors, and most famously, one instance where an owner saw the sunroof on their new Model Y fly off shortly after leaving the showroom.
Hyundai is known for making quality vehicles, consistently garnering high-reliability scores in surveys. Which is all to say, Tesla may be up for a big challenge keeping its pole position as the most valuable automaker in the world. The cool factor will wear off eventually if it's quality control doesn't improve. And its early lead is going to face stiff competition from the litany of rivals snapping at its heels.