Tech
How orange is Google's 'Oh So Orange' Pixel 4?
We did a scientifically unscientific comparison to find out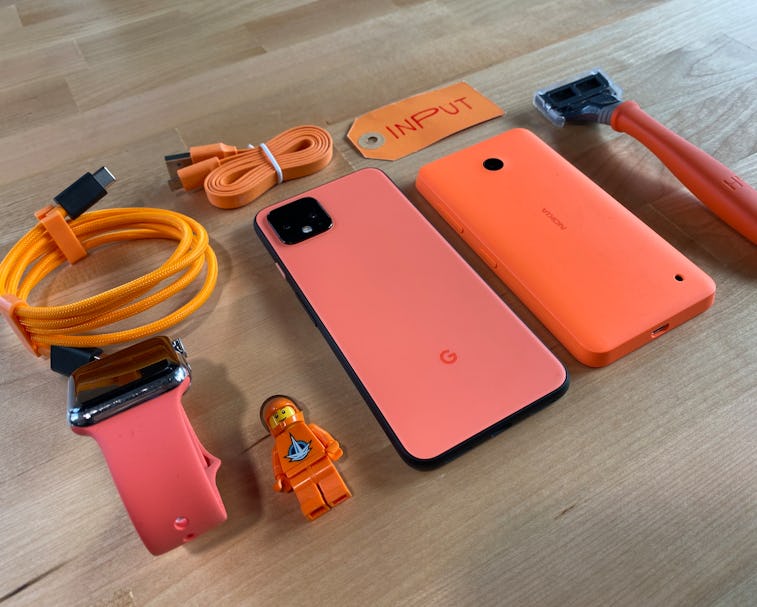 Raymond Wong / Input
Orange is the new black. I'm talking about Google's new Pixel 4, not the Netflix series.
While there will be plenty of analysis on whether any of the new devices Google announced today are any good — we got wireless Pixel Buds, a Pixelbook Go Chromebook, a new Nest Mini smart speaker, and a Nest Wifi router — the burning question everyone really wants to know is: how orange is the "Oh So Orange" Pixel 4?
Glad you asked because I brought a bunch of orange stuff — a Harry's razor blade, Cheetos (yes, really!), an actual orange, and more — to bring you this very important comparison!
Pixel 4 vs. Harry's razor blade
Vibrancy draws geeks to the flame and the Oh So Orange Pixel 4 just can't compete with the variety of orange goods we surrounded it with.
My Harry's razor blade (I'm happy to say I recently broke up with Gillette because eff them insane prices for the blades) is sharper in every lighting condition.
In dull places, the Oh So Orange Pixel 4 looks more orange — sometimes even neon-like — but in brighter scenarios the Android phone leans more coral or salmon-colored. But not quite as pink-infused as the coral iPhone XR.
Google's new flagship baby is no iridescent optical illusion like the Galaxy Note 10, but its color can still deceive.
Pixel 4 vs. Cheetos
OK, we didn't break out the Cheetos, Cheez-Its, or Reese's out of their packaging, but eyeballing their orange-ness compared to the Oh So Orange Pixel 4 and — ho-ho — I think it's obvious there are other things that are oh so much more orange.
Personally, my old orange Nokia Windows Phone 8 device with model-name-I-can't-remember is the most electric orange of them all and perfect in every way. But that's just me (I'm right, though).
Pixel 4 vs. a subway seat
Riding back to the office, I spotted the ultimate orange comparison: a subway seat.
At first glance, the Oh So Orange Pixel 4 seemed like a perfect match. Sadly, my eyes deceived me. The garbage subway car lighting made it appear as if they were twins, but they're not. Sorry, kiddo.
Time will tell which orange ages better. The orange subway seat endures an ungodly number of manspreads daily. The Pixel 4 need only survive my greasy Wendy's nugget fingers during lunch.
Pixel 4 vs. orange
The mighty orange can't be out-oranged. It's clear from this single photo, the orange has superior highlights and dynamic range compared to the Oh So Orange Pixel 4. All things you need to be the ultimate orange hue.
Texture-wise, the citrus fruit commands more authority. "Look at me, I've got character!" demands the orange. The Oh So Orange Pixel can only dream to compare. It wins on cameras, though.
Like Halloween all year round
I'm hype for orange, but something about the Oh So Orange Pixel 4 feels off. It's too Halloween-y.
I'm old and boring and like my phones matte black. Besides, it's a goddamn color. You're gonna cover up the Pixel 4's pretty soft-touch matte glass back with a case, anyway.