Tech
Aw, Google is opening a store in NYC. Good for her.
Hopefully it doesn't suffer the same fate as Microsoft's retail endeavor.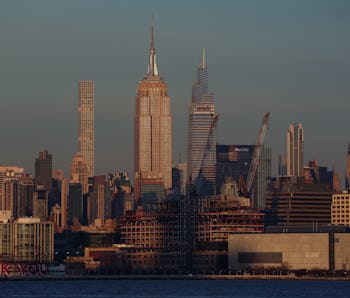 Gary Hershorn/Corbis News/Getty Images
Google is going analog. The company plans to open its first physical Google Store in New York City this summer. The storefront will be attached to Google's offices in the Chelsea neighborhood.
According to a blog post, the store will offer a selection of products from Google's range of brands, including Pixel smartphones, Nest thermostats, Fitbit devices, and more. Throughout the store, Google will have representatives on hand to educate customers on its products and how they can work together. Store pickup will be available for items ordered through Google's online store.
Google is opening its first physical store just about a year after Microsoft did the opposite and permanently shuttered all of its stores. The company had already planned the move but the coronavirus pandemic accelerated its timeline.
Why? — While its announcement doesn't indicate whether it plans to open more locations, Google might be a better candidate for a retail chain than Microsoft. Beyond the Xbox, Microsoft isn't as much of a consumer company as Google. The products it offered at its store were mostly legacy PCs made by third-party manufacturers, not Microsoft itself. And selling business products like Office 365 next to the Xbox is a weird juxtaposition for a store. Google, on the other hand, is selling a lot of its own consumer products and services, ranging from Stadia and Android TV to Chromebook and Pixel.
By opening its own storefront, Google could give consumers an opportunity to try Stadia on a big screen, or see how Nest thermostats work. They'll also be able to receive device support and repair, something Microsoft only did for first-party Surface and Xbox devices.
Google, you might remember, once tried to build its own retail stores on literal floating barges. It said at the time in 2012 that the spaces would serve as interactive spaces where people could learn about new technology, but it was rumored that Google intended the barges to serve as traveling showrooms for Glass. The company struggled to get permits for the project, however, and quietly sold the barges in 2014 before they ever opened.
COVID-19 — The physical Google Store is opening just as New York City eases coronavirus restrictions, but Google says it will still ask customers to wear masks and socially distance. There will also be hand sanitizer available and the store will be cleaned multiple times per day; capacity will be limited.
There's no official word on exactly when it will open this summer.