Fake Real Car
Hey, at least this Corvette NFT comes with an actual sports car
The "Minted Green" Corvette Z06 is one-of-a-kind, and all proceeds from its auction go to charity.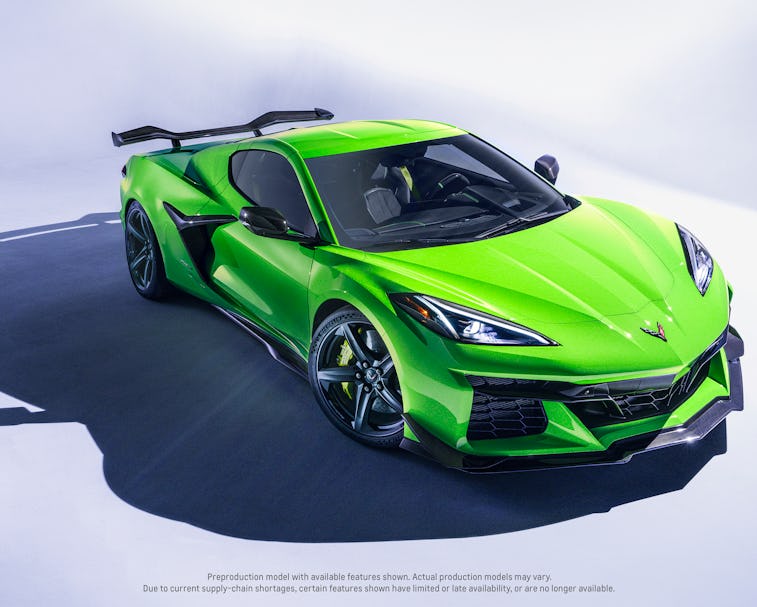 There is no cash grab more exhausting, in 2022, than the random use of NFTs by brands that really don't need them. Chevy's latest NFT auction does, at the very least, include the one-of-a-kind green Corvette Z06 it portrays.
The Corvette Z06 NFT was painted by @xsullo, a digital artist with about 120,000 Instagram followers.
"The Corvette Z06 is an ambitious car that I totally vibe with," @xsullo said in a press release. "I'm drawn to how technology can make us feel, and I can tell the designers of the Corvette Z06 draw from similar inspiration."
Like the NFT, the Corvette Z06 in this particular color — "Minted Green — is an edition of 1-of-1, and, as such, the auction for both has been named "Own the Color." (Because whoever wins will essentially "own" the color… get it?)
The NFT auction will be open from June 20 to 24 on SuperRare, an NFT marketplace focused on collecting art.
At least it's for charity — There's a reason most NFTs don't correspond to anything in the physical world: they're digital objects. That's the entire point of an NFT. That's not to say tying an NFT to something physical can't work — sneaker companies have had some success in this particular endeavor — but usually it just doesn't make sense.
So yeah, the Corvette Z06 NFT is a little gimmicky. This feeling is only furthered by details like a binary code-inspired VIN number for the IRL Z06, which Chevy says is "a further connection between the car and Web3."
That doesn't necessarily mean it's a bad idea, though. The NFT auction will likely bring in buyers who otherwise never would've checked out the Corvette. Proceeds from the auction are going to DonorsChoose, a nonprofit that helps teachers in need — so it doesn't really matter how Chevy makes the auction enticing as long as it works.
Not the greatest timing — If there was ever a horrible time to launch a cryptocurrency-based project, that time is right now. Just about every crypto market is down bad this week, with popular currencies like Bitcoin and Ethereum sitting at just a small fraction of their highest prices. Trust in crypto companies has never been lower. Chevy is lucky there's a physical sports car involved here, otherwise the NFT might not sell for anywhere near what the company hopes.
For those not wealthy enough to actually bid on the Corvette NFT, the digital art will be available for viewing during the NFT.NYC convention, which takes place from June 20 to 23. You may also view it in your web browser right now for as long as you'd like.