Vroom Vroom
BMW is testing an iX SUV with a driving range of 600 miles
Dual-chemistry battery technology from Our Next Energy allows the SUV to go nearly twice as far as most EVs.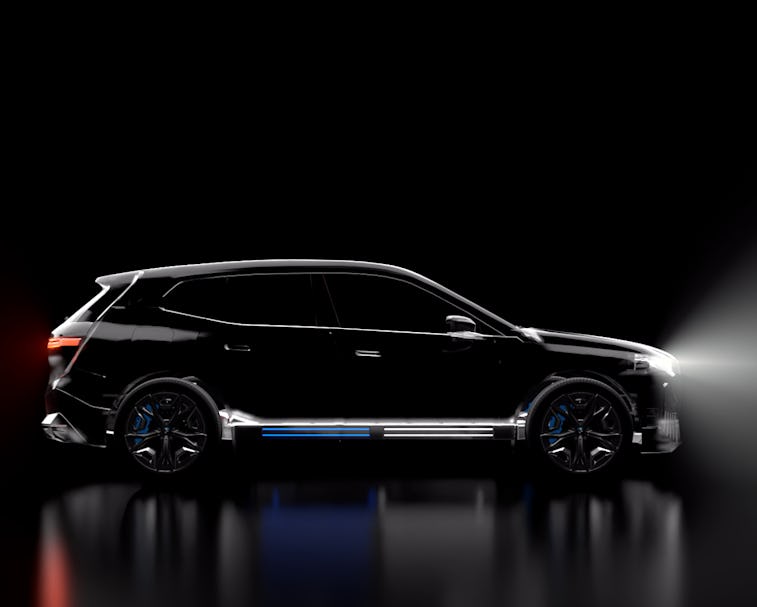 BMW's latest electric vehicle experiment is a doozy: an iX SUV capable of traveling nearly 1,000 kilometers (approximately 600 miles) on a single charge. That kind of EV driving range is seen rarely (if ever) in the current market.
The iX utilizes Our Next Energy (ONE)'s cutting-edge battery chemistry to offer a nearly unheard-of EV range. Called Gemini, the technology uses 20 percent less lithium and 60 percent graphite, and minimizes the use of nickel and cobalt. That makeup promises significantly less strain on the environment for each Gemini battery produced.
The revolutionary battery chemistry used by ONE is still very much under-wraps, which has led some to question the technology's real potential. Partnering with BMW is significant, though, and lends credence to Gemini's expected driving range.
Introducing Gemini — Here's what we know about Gemini so far: it uses two kinds of battery chemistry, one for power delivery and one for energy storage. This system allows for significantly more power to be stored and significantly fewer rare minerals to be used in the battery's construction.
As Electrek notes, this isn't the first time Gemini has been used to increase an EV's battery function; last year ONE successfully installed the battery pack in a Tesla Model S and used it to drive 752 miles on a single charge. That's almost twice the range a Model S gets with its most expensive battery setup.
In a statement, ONE founder Mujeeb Ijaz said the company's Dual-Chemistry technology will also allow electric vehicles to stand up to trips taken in inclement weather or on rough terrain — factors for which many companies have been criticized for not considering when estimating their EVs' ranges.
Our Next Energy
Our Next Energy
Our Next Energy
Finally some better batteries — Now that all-electric vehicles have hit the mainstream, automakers (and third-party companies) finally have the resources to improve the battery tech that powers their products. The fruits of those labors are thus far impressive: Mercedes-Benz's Vision EQXX successfully completed a 626-mile trip on a single charge earlier this year.
Better battery technology created by the quickly growing EV industry has already had consequences beyond auto-making, too. Toyota has already created a home battery control system based directly on its EV technology that's capable of being reverse-charged by the company's electric vehicles.
BMW hopes to complete testing of the iX this year, though a release date on the SUV is still very much TBD.