Tech
Apple's Phil Schiller on keyboards, fanboys, and Chromebooks
"Keyboards in general are a lot of work. People sometimes underestimate how much work goes into a keyboard, and that's why most keyboards in the industry don't change for 10 or 20 years."
Phil Schiller, Apple's SVP of Worldwide Marketing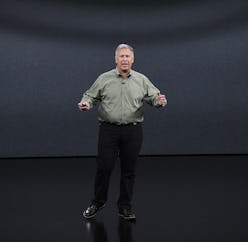 Bloomberg/Bloomberg/Getty Images
Is bigger better? That's what Apple aims to find out with its new16-inch MacBook Pro. It is the laptop's first size upgrade since the 17-inch MacBook Pro was discontinued in 2012. Aside from its screen size, what's getting the most buzz are the new scissor-style keys, which are based on Apple's desktop Magic Keyboard. This feature shows that Apple has been listening to consumer feedback, as the issues with the butterfly keyboards on its latest MacBooks are well documented by now.
Just as the 16-inch MacBook Pro arrived, Apple's marketing chief Phil Schiller sat down with CNET to discuss the new keyboard as well as the future of the Mac and iPad.
The future of MacBook keyboards — Yes, you're excited about the return of a functional keyboard to the MacBook, but don't get your hopes up: Schiller confirmed to CNET that Apple isn't ditching the butterfly switch keyboards anytime soon. That style will continue to exist and grow alongside the laptop version of the Magic Keyboard, he said. The 16-inch MacBook Pro's new keyboard marks a return to more tactile keys with a bit more travel time compared to the barely-there butterfly keys known for sticking.
In response to customer feedback about the TouchBar, the new MacBook Pro's TouchBar cedes a physical "Escape" key. Apple also took advantage of the size to grant a little extra space between the TouchBar and the upper keys to minimize any accidental commands for anyone with a long reach or shaky hands.
The creative church of Apple — In the interview, Schiller minimized the growing appeal of Windows products for creatives and the role Apple's fan base plays in the company's outward appearance.
"It's not about religion, it's not about fans. It's actually about the right product for incredibly creative productive groups of people with their computers," he told CNET.
Keys to success — Schiller stood firmly behind the iPad's computing power, dismissing the possibility of touchscreen-enabled MacBooks. In the education market, he said, Apple isn't worried about Chromebooks because he believes that iPads are more likely to inspire and engage students.
"Chromebooks have gotten to the classroom because, frankly, they're cheap testing tools for required testing. If all you want to do is test kids, well, maybe a cheap notebook will do that. But they're not going to succeed."
Despite Apple's big push into the education market, Futuresource reported in March that schools are far more likely to choose Chromebooks over iPads.