$$$
A 16-inch MacBook Pro with all the bells and whistles costs $6,100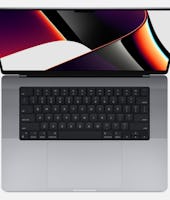 The cost of a new, fully maxed-out 16-inch MacBook Pro.
Two things were confirmed during today's Apple Event: 1) the latest beast of a MacBook Pro is here, and 2) it's going to cost you. A lot. The absolute cheapest, 14-inch Pro will still set you back about $2,000 (before tax), but you can easily end up paying much more than even that hefty starter cost. More specifically: the latest, fully tricked-out 16-inch MacBook Pro tallies up to a double-take-inducing $6,099.00 (also before tax, of course).
Yeah. Ouch. Apple is certainly emphasizing MacBook Pro's "Pro" aspects this time around.
What you get for roughly a car down payment — So what does $6,100 get you, other than potential buyer's remorse? Well, a whole lot of horsepower, to be honest. Apple's new line of MacBook Pro's are clearly angling for a return to professional industry usage (although we're sure a lot of average customers are checking their credit card limits right about now).
For that price, consumers will nab a laptop with Apple's latest, full-fat M1 Max chip featuring a 10-core CPU, 32-core GPU, alongside its 16-core Neural Engine. The totally-tricked-out laptop also comes with 64GB unified memory, an 8TB SSD storage, a 16-inch Liquid Retina XDR display, three Thunderbolt 4 ports, alongside additional single ports for HDMI, SDXC cards, and MagSafe 3 charging. Apple's 140W USB-C power adapter is also including to provide the necessary juice.
Available a bit later than others — Apple is already accepting pre-orders, but don't expect your big, bad MacBook Pro to arrive as quickly as, say, the new AirPods 3. According to the store page, customers can expect the 16-inch Pro with all the fixin's to begin shipping between December 10 and December 23. The basic(ish) 16-inch MacBook Pro, however, will start rolling out the first week of November. All good things come to those who wait, right? Well, those who wait and can claim them as a tax-deductible work expense, really.