Style
Serena Williams's floral Nike Air Force 1 sneaker is a work of art
The latest contribution from the Serena Williams Design Crew.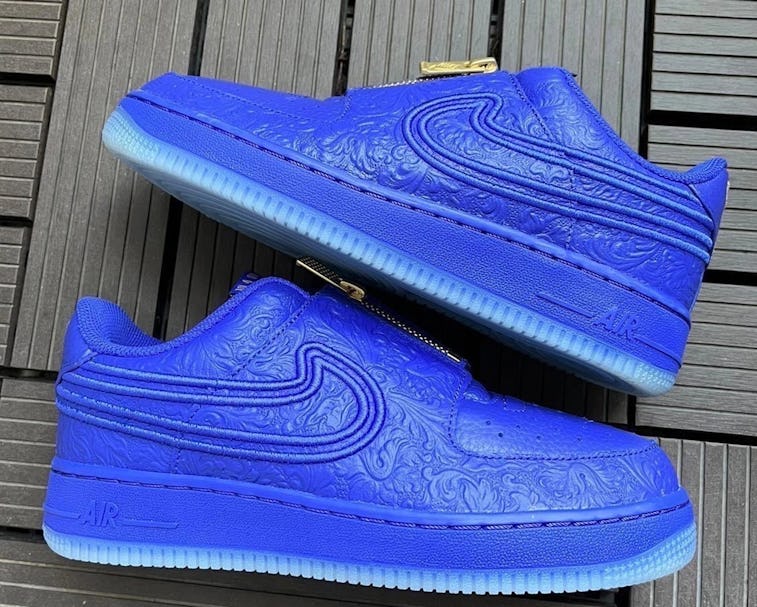 @sneakerknockerzllc
Serena Williams is nearing 20 years with Nike. Their ties run so deep that the Swoosh recently unveiled its biggest and most sustainable building in the athlete's honor. Already having a couple of Nike sneakers under her belt, the tennis star's Design Crew is reimagining another Air Force 1 sneaker that ditches luxe white minimalism for an even bolder statement.
Florals in store — What stands out on the sneaker, aside from its bright blue dressing, is the immaculate detail on the upper. An elegant floral pattern is embossed into the leather exterior and texturized with protruding, double-stitched Nike Swooshes that loop around the heel. Her signature is embroidered in gold on the heel, and the insole provides an eye-catching contrast with multicolor florals. Similar to Williams's previous Air Forces, the sneaker swaps a traditional lacing system for gold zippered flaps at the forefoot.
@sneakerknockerzllc
@sneakerknockerzllc
@sneakerknockerzllc
Gold also appears on the shoe's tongue through the special Serena Williams Design Crew logo, which reads "A collection created to inspire, change, and move the world." Another special "10 04 01" tag peeps off the tongue as a nod to the work of the cohort — "10 designers for one athlete, 10 designers for one collection," as Nike puts it. Down below, a final hit of detailing appears at the icy blue, translucent outsole.
Serena and the Swoosh — Now that Williams has a specialty building at the Nike headquarters fit for thousands of designers, we can likely expect even more products bearing her name. Inspiration from Williams is found throughout the entire building, from the wings to each room's details, and there's no doubt that there'll be plenty of space for more sneakers and apparel from the design team.
The first glimpse of Serena Williams Design Crew's Nike Air Force 1 comes by way of @sneakerknockerzllc, but official information for a SNKRS release should be on the way soon. They're said to retail for about $130 — not far off from the price of the original Nike Air Force 1. It's not exactly a sneaker that'll help you win as many Grand Slams as Williams, but it's a worthy contender to your sneaker rotation nonetheless.