Style
New Balance does up the 2002R sneaker like a Kawasaki Ninja
An unofficial nod to 2012's 993 collaboration.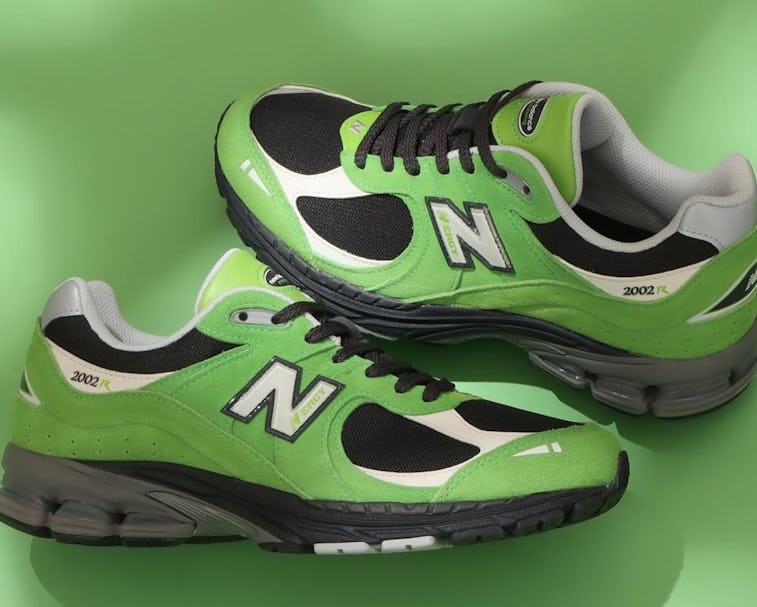 New Balance
New Balance isn't ready to give up its beloved 2002R sneaker. Hot on the heels of a hiking boot-inspired version and a highly coveted Joe Freshgoods collab, the brand is gearing up to reveal a new collection of kicks. As part of a "Good Vibes Pack," the brand is dipping into its archive to give the silhouette a retro makeover. Inspired by the coveted Kawasaki 993 from 2012, the upcoming 2002R will combine the hyped green makeup with some fresh energy.
Giving the green light — Originally revealed in March, the sneaker appeared as an almost direct replica of the collaborative project from a decade ago. A bright shade of green dresses the upper in its entirety, while black and off-white give the shoe some accenting power across the toe and near the heel. Underfoot, a black N-ergy cushion gives a boost of support at the sole with the word "N-ergy" sitting inside the traditional midfoot.
New Balance
New Balance
New Balance
Soft suede constructs most of the upper, but mesh and leather provide a space for the accents. If you're familiar with the original pair, you'll notice the subtle differences in their design. (This isn't an official collaboration, after all, as Adidas recently partnered with the motorcycle manufacturer.) The predecessor has "Kawasaki" stitched along the toe and "Ninja" in script on the tongue, but the new counterpart swaps the former for a geometric logo and the latter for "NB Running."
For New Balance fans or enthusiasts of the color green, the sneaker is an experimental step in the right direction for a brand that usually reaches for grays, pastels, and neutrals. But for those who weren't able to cop the original collab with the Kawasaki Superbike team or find a pair on the secondary market for the right price, the sneaker is a well-placed shot at redemption.
There's no telling where the line ends for New Balance's 2002R golden child sneaker, or even which sneakers are prepped for the rest of the "Good Vibes Pack." If the "Protection Pack" is any indication, there are several color options sitting in the pipeline, although their backstories have yet to be revealed.
A wider release may hit New Balance eventually, but as of now, the Kawasaki New Balance 2002R sneaker is set to arrive via atmos Tokyo on June 4. If you need these to complete a decade-long dream but don't want to wait for a stateside drop, don't worry. We've come up with a guide to navigate the June release and secure the shoes for yourself.