Style
Need to update your technical outdoor wardrobe? Maharishi has you covered
Introducing reversible tigerskin and camouflage prints for double the wear.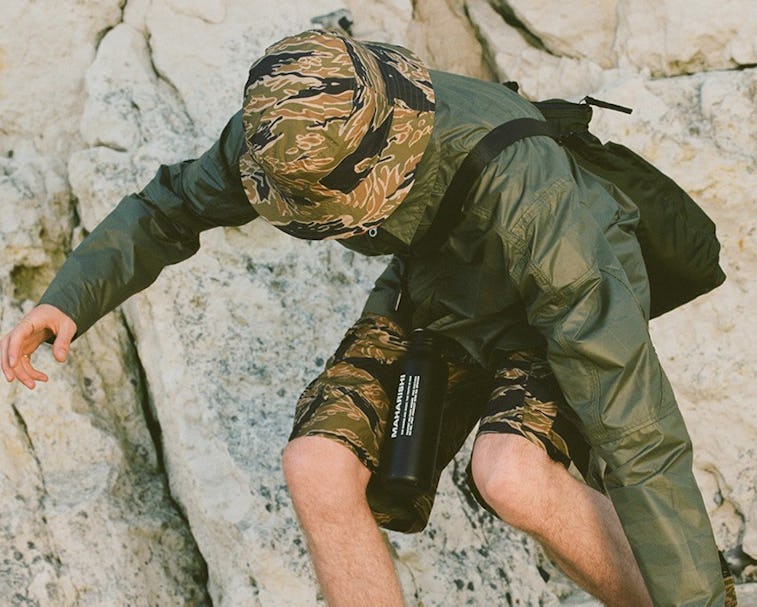 Maharishi
Maharishi, a technical brand known for meshing Eastern and Western influences, has artfully merged technical and performance fabrics for its Spring/Summer '22 collection. While this may look like your average military-inspired gorpcore capsule at first glance, the Tech Special Forces collection is a series of outerwear and layering pieces that are as functional and practical as they are good-looking.
Made to last — On its website, Maharishi claims the textiles are "created using eco-conscious production processes," but it doesn't go into detail about how they're sourced or made. Nonetheless, each piece is constructed using a 100-percent recycled polyester that's also featherlight.
Maharishi
Maharishi
Maharishi
Micro-ripstop is also weaved into the fabric for durability, while a water-repellent finish protects against rain and wind. Regardless of whether you're hiking the Appalachian or taking a stroll through the neighborhood, the pieces are also tear-resistant so they won't get torn up on every branch you brush past.
Complete the fit — Maharishi is known for the utilitarian aesthetic infused into its clothing. Key pieces in the Tech Special Forces capsule include outerwear from padded kimonos to fishtail parkas to Mandala jackets. There are also cargo Snopants, side-seamless track pants, and knee-length counterparts. Perhaps most versatile is a pair of cargo shorts that comes with detachable pockets that can double as a shoulder bag.
Accessories include a 6-panel cap, bucket hat, and a balaclava-like face mask made from a blend of hemp and organic cotton. Elsewhere, a twill face mask hat takes face coverings to a new level. Inspired by cold-weather-protecting U.S. Army headgear, the piece can be worn to completely conceal the face — the mouth and nose are reflective if you do so — or as a traditional hat.
Maharishi
Maharishi
Maharishi
Maharishi updates its traditional vibe here with even more technical and functional features. Most of the collection is reversible with the option to be worn with a either camouflage print or a DPM tigerskin pattern. Others have pack-away capabilities to optimize space in your travel bag and 3M reflection elements for any nighttime treks. A pre-formed leg shape equips some of the pant silhouettes for unrestricted movement, and integrated jacquard webbing belts come with a style clip to hang accessories.
Items are listed on the pricier side, ranging from $115 for the 6-panel hats to $990 for the Mandala Parka. But if your outdoor wardrobe could use some upgrades, you can shop Maharishi's Tech Special Forces collection through its website now.