Style
Kanye poopy-di scoops algae to make new Yeezy clogs
The fashion company's new sustainability push contradicts West's politics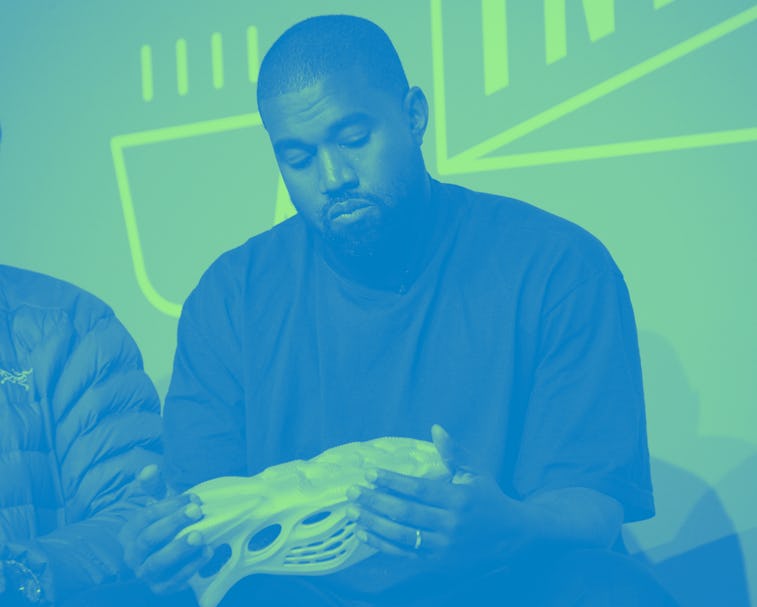 Brad Barket/Getty Images Entertainment/Getty Images
At Fast Company's Innovation Festival on Friday, Kanye West and Yeezy's lead designer Steven Smith talked about their design process and the future of the company. The pair revealed a new dedication to sustainability and teased a shoe partially made from algae.
Sustainable, farm-to-table Yeezys — Smith and West brought a proof-of-concept shoe to the stage that fully embraces the recent trend of unattractive dad shoes. The algae foam Croc came to fruition as a result of West's long-time aversion to shoelaces.
The company will move all of its operations to North and South America in the next couple of years, with West's Wyoming ranch headquarters serving as a new manufacturing hub.
"We're going to be farming and going seed-to-sow, and have our own cotton hydroponic farm and our own hemp farm and our own wheat farm so we can see every element and get into how we can have less impact with the dyes," West told Fast Company's Mark Wilson.
The Trump of it all — These announcements fly in the face of another fashion statement West stands behind — his MAGA hat. Over the past few years, West has come under fire for his comments about slavery, the political brainwashing of Black voters, and his support of Donald Trump.
The Trump administration has rolled back a laundry list of sustainability advancements since 2017 and Trump's exit from the Paris climate agreement will make the U.S. the only country not signed onto the critical pact. The move to pull Yeezy's manufacturing out of China might be the only thing West and Trump can agree on when it comes to protecting the environment.
This article was originally published on