Style
Jack Harlow is getting his own New Balance 550 sneakers
The rapper teased two versions of the hyped kicks inspired by his new album and hometown.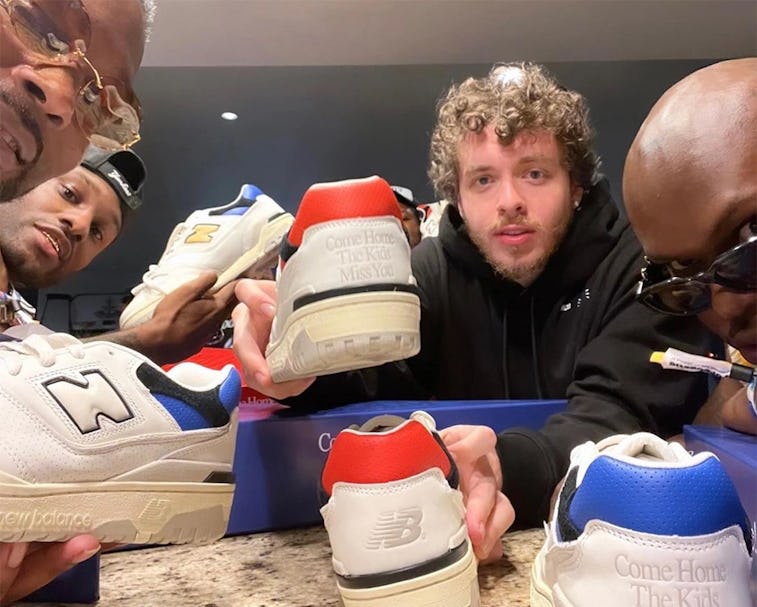 Jack Harlow
Jack Harlow has carefully curated himself as "the white rapper of the moment," and a large part of his personal brand surrounds his love of New Balance, for which he became a brand ambassador earlier this year. The artist is now taking his fans to "First Class" with his very own version of New Balance's 550 sneaker that nods to his second studio album with "Come Home The Kids Miss You" printed on the heel.
Two iterations of the shoe are expected — the more pairs the better, we say. Since relaunching in 2020, the 550 silhouette has been nearly impossible to obtain thanks to high demand and, subsequently, even higher resale prices. Collaborations with Aimé Leon Dore and Rich Paul have helped build hype for the sneaker, although Harlow's upcoming version will surely increase its popularity even further, especially amongst the rapper's primarily white and female fanbase.
Harlow's heat — The 24-year-old artist took to Instagram to tease the two color schemes for his 550, each of which has "Come Home The Kids Miss You" at the heel. Per Harlow's post, the sneakers follow a "Louisville versus Kentucky" color scheme to honor his hometown. One shoe opts for a bright red heel, while the other takes on a royal blue tone. Like previous 550 offerings, the pair features both smooth and perforated leather uppers as yellowed midsoles and retro "N" branding add a vintage feel.
To emphasize the Louisville and Kentucky sports rivalry, Harlow's sneakers come packaged in pennant-shaped boxes corresponding with the red or blue color of its designated design. Each reads "Home Team" while its side reads "Welcome Home… From Your Friends at New Balance."
Coming home when? — When you'll actually be able to take the kicks home hasn't yet been announced by either Harlow or New Balance, but the rapper's preview means a release could be around the corner. Pairs should retail for around the sneaker's standard $125 cost, although Harlow's name may cushion the price quite a bit (and will certainly impact resale prices). Make sure to follow the artist's social media to catch any other looks at the upcoming "Come Home The Kids Miss You" 550s.
Watch: Extreme Reviews