Reviews
I almost gave up my AirPods Pro for Sennheiser's Momentum True Wireless 3
The Momentum True Wireless 3 earbuds have improved ANC, Qi-charging, and a new $250 price, but a few bugs keep them from true greatness.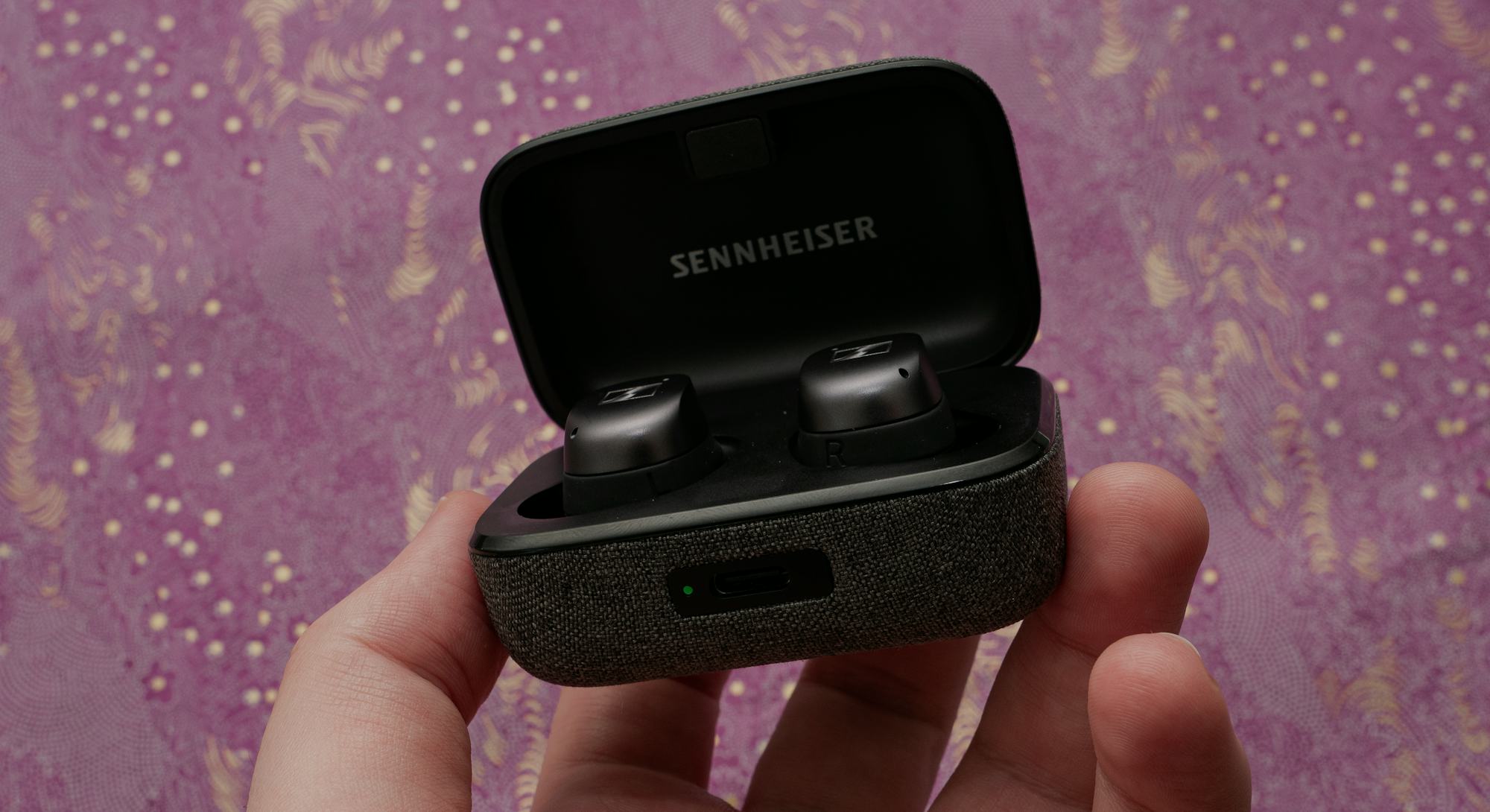 Samuel Polay / Input
While Sennheiser's Momentum wireless earbuds have always been praised for their sound quality, there was usually something missing on older models.
The first Momentum True Wireless had connection and battery issues, and the touch controls were janky. The Momentum True Wireless 2 fixed most of the problems, but were still priced higher than competitors at the time, and lacked premium features like Qi-charging, making it harder to justify the price.
The theme, then, of the Momentum True Wireless 3, is living up to the promise of a pair of premium wireless earbuds from Sennheiser, a company renowned for making audiophile-grade gear. For its third try, I think Sennheiser's cracked it. The Momentum 3 cost $250, right alongside premium wireless earbuds like AirPods Pro, and $50 less than the Momentum 2. The case also finally supports Qi wireless charging. Sennheiser has also beefed up active noise cancellation (ANC) performance while housing everything in a new modern design that's also quite comfortable.
Some annoying bugs and software choices still get in the way of perfection, but the Momentum 3 is the closest Sennheiser has come to offering a wireless earbuds experience that matches its great sound.
Input may receive a portion of sales if you purchase a product through a link in this article. We only include products that have been independently selected by Input's editorial team.
New Form
The design of the Momentum True Wireless 3 is eye-catching and feels at home with the DNA of the CX Plus and Sport wireless earbuds. They're rounded rectangles with metallic-matte finishes for all three colors (black, graphite, and white). The insides are more ovular to fit your ear with the stem for the ear tip contouring fairly deep into my ear canal for a tight seal. They're IPX4 rated, so they'll survive sweat and the odd rainstorm, but no dust resistance means they're probably not great for extended workouts outdoors.
I love the way these wireless earbuds look; my graphite review unit is stealthy in a way pure black isn't and they don't look as dated as the brushed aluminum on previous Momentum wireless earbuds.
The charge port is now on the front of the case.Samuel Polay / Input
The Momentum True Wireless 3's new design draws from Sennheiser's other wireless earbuds.Samuel Polay / Input
The case is mostly unchanged. It's still wrapped in color-matched fabric and very thick compared to other wireless earbuds cases. I found the case uncomfortable in my pockets; its better for jacket pockets or bags. The biggest changes are the relocation of the USB-C port to the front and the addition of Qi wireless charging to the bottom. Both of these are welcome improvements, especially Qi charging, which is available in more affordable buds like the $99 Nothing Ear (1). Battery life is unchanged from the Momentum 2, with seven hours of playtime and 21 additional hours in the case.
Four pairs of ear tips are included: large, medium, small, and extra small. For the Momentum 3, there also are two sizes of ear wings as well as a wing-free option. The smallest ear wings and medium ear tips come pre-installed. These wings aren't as pronounced as the wings on the Sennheiser Sport wireless earbuds; they gently rest in the back of my ear instead of pushing the tip of the wing to the front. They're very comfortable.
With a tight seal and fit that stays put even when I'm moving around, the Momentum 3 are my favorite fitting pair of Sennheiser wireless earbuds so far and are very comfortable for long hours of listening.
Super sound, cool new tricks
The sound quality on the Momentum 3 is astounding. I was more than impressed by the detail and sound stage; these may just be the best-sounding pair of wireless earbuds out of the box I've reviewed. Sennheiser's factory tuning still favors neutrality above all else, but don't let that make you think these wireless earbuds are lacking in rich bass or crisp highs.
Every song I threw at the Momentum 3 from my stress test playlist sounded amazing, and they maintained detail in even the most challenging tracks. I also took the chance to listen to new albums from Jack White, Orville Peck, and Kendrick Lamar. I'm really nitpicky with how I choose to get my first impressions of a new album but the Momentum 3 did not disappoint here either. Whether it was a shrill guitar solo from White or the chaotic, collaborative percussion section working with Lamar's lyrics, I always felt like the Momentum 3 were giving me exactly the experience intended by the artist. The CX Plus also sounded great out of the box, but you really get an added layer of oomph, detail, and clarity with the Momentum 3.
Keep in mind this was from an iPhone 13 Pro over AAC. The Momentum 3 also support aptX Adaptive and 24-bit/96kHz audio playback, with bitrates up to Adaptive's max of 420 kbps. They do not support aptX Lossless, however, and Sennheiser confirmed to Input that the Momentum 3 are not equipped with a chipset capable of supporting the feature.
The sound quality on the Momentum 3 is astounding.
I think it's hyperbolic to declare any pair of wireless earbuds as "audiophile-grade" (I'll leave that to marketing departments), but the Momentum 3's combination of support for higher bitrate wireless audio on Android and commitment to a default neutral soundscape would make these as good a contender for the label as any. Whether or not you care about wireless audio fidelity, I'm comfortable saying the Momentum 3 are the best wireless earbuds around for people who prioritize audio quality and balanced tuning above all else.
If you don't like default tuning, the Sennheiser app has a trove of options for you. You can create your own EQ setting or choose from a selection of pre-made EQ settings from Sennheiser.
The app also has a standalone Bass Boost toggle which is worth spotlighting. I'm usually not a fan of bass boost settings, but this toggle can be applied to any EQ tuning without changing your preferred preset levels. It's also my favorite bass boost implementation I've heard. It manages to add the extra impact you'd want from good bass without drowning out the mids and highs too much. It's not magic, and the low end is certainly brought forward when the bass boost is toggled on, but it does succeed in making these earbuds sound more exciting. I often found myself leaving the Momentum 3 set to their default EQ but with bass boost on.
The biggest upgrade for the Momentum 3 is ANC. Sennheiser has upgraded to "adaptive" ANC, continuously adjusting the strength of noise cancellation as your external environment gets louder or quieter. The standard ANC mode is very effective and, especially when playing audio, drowned out my surroundings as well as the best ANC earbuds out there. This isn't class-leading ANC for wireless earbuds, but it's more than competitive enough for those drawn to the Momentum 3's audio-quality bonafides.
I always felt like the Momentum 3 were giving me exactly the experience intended by the artist.
There's also a setting in the app for "anti-wind" ANC, which trades the overall strength of noise cancellation for eerily effective wind noise elimination. In my experience I found anti-wind to let enough outside sound to make me feel safer walking outside. Wind noise has always been a weak spot for the AirPods Pro and Sennheiser dunks on them in this field. I only wish there was a quicker way to switch between standard ANC and anti-wind ANC that didn't require opening the app. They really are different noise cancellation experiences. Sennheiser did confirm that adding an anti-wind touch command is on the roadmap for future updates and hinted that wind-reduction may be an automatic adjustment in the future. (For now, I can only judge what Sennheiser's earbuds offer today.)
Transparency mode on the Momentum 3 is less impressive. While it does let outside noise in, I was unimpressed with how the Momentum 3 processed other people's voices in this mode. Quickly toggling transparency mode on to hear what someone is trying to tell me is my main use case for this feature. While I wasn't expecting the class-leading passthrough that AirPods Pro provide, I was still let down considering the price of these wireless earbuds. The Momentum 3 also, oddly enough, don't enable transparency mode when you take one earbud out. I can't tell if the earbud in my ear is set to ANC mode or just standard passive-isolation mode, but it does feel disorienting to have one ear still encumbered when I take a single earbud out. This is another area where AirPods Pro stand out: They immediately and seamlessly switch to transparency mode any time one earbud is removed. Weak transparency mode isn't a deal-breaker in my book. As someone who uses transparency sparingly — even when done well — I'd love to see Sennheiser improve it.
Odd quirks
While the Momentum 3 fall short of being crowned the "best wireless earbuds," the issues I ran into won't keep these wireless earbuds out of that conversation entirely. The strengths are just too good to ignore and, Sennheiser confirmed these bugs are known issues. It's working on improvements that'll be pushed via firmware. Of course, we don't know when to expect that update.
To start, there are several small but annoying bugs I encountered repeatedly during my review. On phone calls, I'd notice the call drop out briefly on my end when I transitioned from indoors to outdoors. The call did recover but it was repeatable enough for me to note.
I also found the transition for the ANC modes inconsistent. Occasionally, switching to transparency mode would only enable transparency on one earbud, leaving the other in ANC mode. While I was impressed with the performance of both the anti-wind and regular ANC modes, switching between them in the app wouldn't immediately cause the correct mode to take effect. I'd have to disable then re-enable ANC with a touch gesture to get the right mode to kick in, despite the app telling me the earbuds had changed modes.
Sennheiser also made odd choices with its default touch controls, which are thankfully customizable. Play/pause with a single tap is only mapped to the right earbud, while transparency is mapped to a single tap on the left earbud. Three taps on the left toggle ANC, but trigger your digital assistant on the right. As far as I know, Sennheiser is the only company that doesn't bundle transparency and ANC cycling together. If you want more intuitive touch commands, where a single tap on both earbuds is mapped to play/pause, Sennheiser is forcing users to sacrifice either ANC control, transparency control, or assistant control.
There are also some smaller feature omissions that Sennheiser needs to add in future firmware updates. Multi-device pairing, arguably the only "premium" feature missing here is confirmed for Sennheiser's roadmap but there's no timeline for when to expect it. The Sennheiser app also doesn't show how much battery charge is left in the case. Most wireless earbuds will report the case's last known battery level to their respective apps whenever the earbuds connect to the phone, and without any charge level indicator on the Momentum 3's case, you really can't tell when you've depleted its battery.
While I hope Sennheiser's promised firmware update is coming sooner rather than later, until then, you need to keep these bugs in mind when considering these $250 wireless earbuds. There are lots of options that don't have these same issues at this price point.
Ready to play, playing to win
It took three generations and a new owner, but Sennheiser has finally cracked the premium wireless earbuds formula. The Momentum True Wireless 3 deliver nearly every feature you'd want in a premium pair of wireless earbuds, while still having the incredible sound quality the Momentum line has always been known for.
From the leap forward in ANC performance, to the price drop, to the addition of wireless charging, the Momentum 3 finally has no serious caveats that premium buyers should beware of. If Sennheiser follows through on its promise to bring multi-point pairing and other features in a firmware update, this would only strengthen the case to pick them up. These wireless earbuds keep pace with the competition in basically every category while blazing ahead in pure sound quality. All they really need is to get those last few bugs ironed out, and as is, none of them ruin the experience.
If you listen to higher-resolution audio regularly on an Android phone, you'll be hard-pressed to find premium earbuds of this caliber at this price point. The BeoPlay EQ, Master & Dynamic MW08, and Bowers & Wilkins PI7 also support aptX Adaptive but cost significantly more.
As an iPhone user, while I'll always fall back to the seamless experience of AirPods, I'd say the Momentum 3 came the closest to tempting me away. The Momentum 3 are the pair Sennheiser fans have been waiting for, and the well-rounded premium contender the rest of the market has needed to keep things exciting.
Watch: Extreme Reviews