Reviews
Microsoft Surface Pro 7 review: so unnecessary
The biggest new feature is a USB-C port?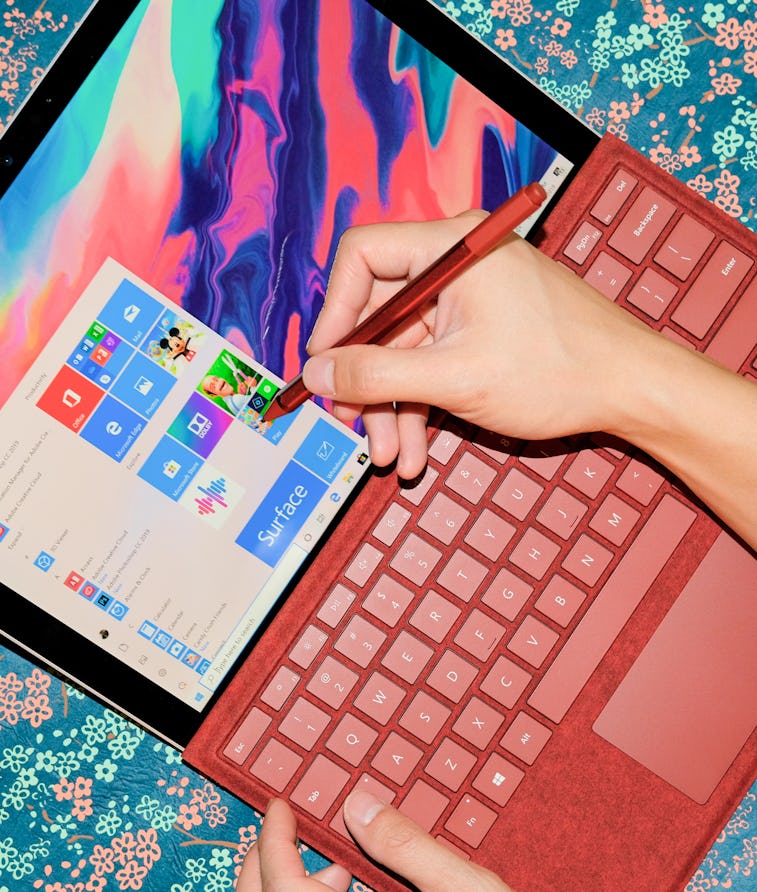 Joshua Topolsky / Input
The Surface Pro 7 is what Microsoft resting on its laurels looks like. Aside from minor Intel processor upgrades and a USB-C port, the 2-in-1 that inspired an industry of copycats doesn't offer anything new in its latest iteration.
I'm all for adding USB-C, but a new port as the major selling point for a computer doesn't move things forward much. Don't get me wrong, the Surface Pro 7 is a very good 2-in-1 — arguably still the best — but it's very dated, especially compared to the sleeker Surface Pro X.
Had the Surface Pro 7 come with the Surface Pro X's thinner design, slimmer display bezels, built-in cellular connectivity, and longer battery life, this would've been a glowing review. Instead, the Surface Pro 7 is another this-is-fine-but-doesn't-push-the-envelope 2-in-1. It works, but it's in no way groundbreaking.
Don't buy the $750 model — The low price is tempting, but I don't recommend this configuration at all. The slow dual-core Intel Core i3 processor and paltry 4GB of RAM won't be sufficient to do much computing in the long term. It's disturbing to see Microsoft bring back mediocre specs simply to get a lower starting price, especially after it wisely did away with them for the Surface Pro 6.
The sweet spot — The best value Surface Pro 7 is the $899 device with Intel Core i5 processor, 8GB of RAM, and 128GB of SSD storage. My review unit has these specs, but with 256GB of storage, which bumps up the price to $1,200. Frankly, I'd buy a 512GB microSD card (usually less than $100) or a high-capacity portable hard drive instead of forking over $300 to Microsoft for more storage.
Same display, keyboard, and trackpad — Nothing's changed. The 12.3-inch touchscreen works great and the 2,736 x 1,824 resolution is as sharp as before. As I said earlier, the bezels are thick compared to what you get on the Surface Pro X and other laptops. Sure, bezels give you a place to rest your thumbs, but like come on, the borders on the Surface Pro 7 are as thick as the bezels on the original iPad.
Same goes for the keyboard and trackpad ($130 for the silicone version and $160 for the Alcantara-covered one): the keys have solid travel and the trackpad is buttery smooth (it's still not as responsive as a MacBook trackpad, but very close).
Ditto for the Surface Pen ($100): it works just as well as before. The stylus has some new tricks in Excel — for example, you can write within cells and it'll automatically convert your handwriting to text — but unless you're a diehard pen user, it's a pass.
No big performance leap — Despite having newer 10th-generation Intel processors, the quad-core i5 chip on my test unit isn't noticeably faster than the Surface Pro 6, which is fine, but also not fine for a newer version. In my tests, the Surface Pro 7 runs Chrome proper with two dozen tabs, streams YouTube videos and Netflix without any issues, and is more than powerful enough to handle RAW photo editing in Photoshop.
The Surface Pro 7's quietness is low-key one of the best things about the computer. Whereas the fan on my 2019 13-inch MacBook Pro (with two USB-C ports) is always spinning up loudly under more demanding workloads, the Surface Pro 7 remained mostly silent with the fan rarely ever being audible.
Unless you really need the USB-C port you could get a Surface Pro 6 and it'd still crush.
Worse battery life, but there's fast charging — Battery life is one of those features that's supposed to get better with every new version of a device. Unfortunately, that's not the case here. Microsoft says the Surface Pro 7 gets "up to 10.5 hours of typical device usage," which is a drop from "up to 13.5 hours of local video playback" on the Surface Pro 6.
It's nice that Microsoft's moved away from using looping local video playback as a metric for battery life since that's not a real-world test by any modern standard. Out in the real world, I never got close to the mythical (and again, reduced) 10.5 hours Microsoft promises on a single charge. Even with the display brightness set to about 75%, the most I ever got was between 6-7.5 hours. It's okay, but the Surface Pro 6 easily lasted 8 hours, and it's hard not to compare it to the 10-12 hours of battery life I saw on Google's Pixelbook Go.
But while battery life is slightly worse this year, there's one saving grace: fast charging. The Surface Pro 8 charges from 0 to 80% in an hour via the Surface Connect or USB-C port (it requires a power adapter with at least 60W output). Luckily, there are some that are really tiny now.
Not with a bang but a whimper — Microsoft played it super safe with the Surface Pro 7. Everything about the 2-in-1 is just fine to the point of boring which, to be fair, is kind of Microsoft's DNA. It's never been the cool kid — that's Apple and Google — but always the most practical.
It's nice the Surface Pro 7 finally has a USB-C port, but it isn't even top of the line since it doesn't support Thunderbolt 3 speeds. The Surface Pro 7 is a mixture of the past and future — USB-C is there to fend off dongles and the USB-A port exists as a legacy link — and that makes it a very practical 2-in-1. But unless you really need the USB-C port you could get a Surface Pro 6 and it'd still crush.
I don't think I'm alone in wishing Microsoft had the engineering chops to go all in with the Surface Pro X hardware, while still sticking with the x86 architecture that makes all Windows 10 apps work properly. Maybe such a Surface Pro wouldn't be as thin as the Surface Pro X, but at least it would have finally refreshed a nearly 5-year-old design. As it stands, the Surface Pro 7 is merely an annual upgrade — a rote refresh that serves mostly as a Black Friday talking point. That's fine for this moment, and maybe the next one. But the real question for Microsoft is more complicated: what does the future of computing look like, and can it get there like this?