No Xbox Required
Streaming Xbox games on Samsung's smart TVs is a low-latency delight
We tried Samsung's new Xbox Game Pass integration to stream console-quality AAA games without the console.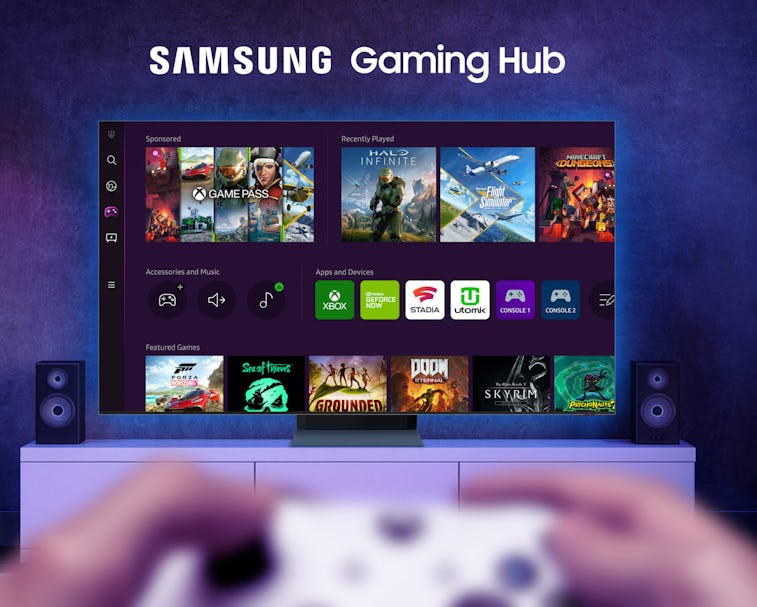 As teased at last year's E3, Xbox has been working overtime to bring its Cloud Gaming platform to smart TVs — and now that dream is about to be a reality. Starting on June 30, Samsung smart TV owners will be able to download an official Xbox app and stream games on-demand. No console necessary.
Simple as it may sound, this really is the most striking thing about Samsung's new Xbox experience: there's no console connected to the television. With a controller in your hands and Forza Horizon 5 on the TV, it's nearly impossible to tell that you aren't actually playing on an Xbox Series X. That's how seamless the experience is.
Anyone, anywhere, any time — Anyone with a 2022 Samsung smart TV will be able to download the new Xbox app. Then it's just a matter of logging in with an Xbox account, pairing a controller or two, and launching any title in the Cloud Gaming catalog.
Samsung's Xbox app is all about opening up the Xbox experience to audiences that might not otherwise have the opportunity to play console-based games. That means your PlayStation-fanboy friend can pair up their PS5 controller and jump into a Halo multiplayer match even if they've never considered buying an Xbox in their life. Samsung and Xbox are continually adding more compatibility for third-party Bluetooth controllers, too, with some already usable at launch.
Because all you need is a controller to get started, the app is also perfect for casual gamers or even non-gamers. The level of commitment — besides buying the TV itself, of course — is significantly lower than putting out for a console or gaming PC.
Low to no latency — I was given the opportunity to try out the new Xbox app experience in advance of its wide release. Lounging in the small sitting area of a NYC hotel room, a massive Samsung OLED smart TV in front of me, I fully expected some awkward silences waiting for games to load up.
But there weren't any pauses. I loaded up Forza Horizon 5 first — a title I have little to no experience with. The title screen opened up somewhere around 15 seconds after I'd opened the game. The loading times between menus and gameplay were similarly short. The setup was using a wired internet connection, yes, but the speed — on a hotel's internet connection nonetheless — was genuinely impressive.
Playing Forza (and subsequently Ori and the Will of the Wisps) proved to be just as speedy as those loading times. There simply was not any latency. This is often game-streaming's downfall; more than a little latency and gameplay turns downright unenjoyable.
The Xbox representative I spoke with told me that, yes, latency was one of the biggest challenges they faced in bringing Xbox Cloud Gaming to smart TVs. Consoles are built to mitigate gaming latency; getting a television to do the same, all while pulling live gaming content from a remote server, is no easy feat.
I nearly forgot I wasn't playing on a console as I dodged spikes and monsters in Ori. I did so well I received compliments on my gameplay. I don't say that to brag but rather to illustrate just how effortless it was to stream the game right through a TV. (Okay, maybe I do say it to brag just a little bit.)
Only the beginning — Beginning June 30, Xbox Game Pass will be able to stream any cloud-ready title on 2022 Samsung smart TVs. There are over 100 titles already available for Cloud Gaming, including big hits like Halo Infinite, Mass Effect, and Hades. That streaming catalog will continue to expand. Fortnite is even available to stream without any subscription at all.
Samsung is already partnered with Nvidia's GeForce Now and Google's Stadia to bring those platforms' respective catalogs to the Gaming Hub. Add Xbox to the mix and a Samsung smart TV is suddenly one of the most extensive gaming devices around.