Gaming
'Elden Ring' team had to step up its graphics after 'Demon Souls' looked so good
A little friendly competition never hurt anyone, right?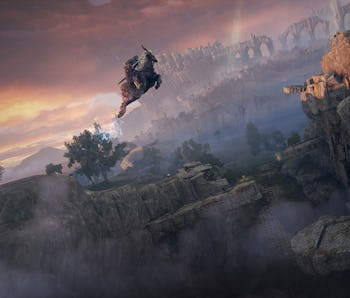 igdb
Sometimes the biggest source of competition comes from the people closest to you, whether that's a sibling, a close friend, or in the case of Elden Ring developer, FromSoftware, the graphics team at large. Hidetaka Miyazaki, the game's creative director, recently spoke to Edge magazine about the process-at-large for Elden Ring, and touched on some of the pressure felt by the graphics team.
Demon Souls, a gothic and dire RPG that initially dropped in 2009, set the stage for the eventual release of Dark Souls and Bloodborne. All three titles were developed by FromSoftware, with Demon Souls, receiving a makeover in 2020. The remastered version took the source material from the original developer and was brought into the world of next-gen gaming, equipped with 4k 60FPS capacity, courtesy of BluePoint Games.
The studio known for its remasters, was recently acquired by Sony, and also lit a fire under the Elden Ring graphics team — here's what Miyazaki had to say on the matter:
"I'm pretty sure our graphics-creation staff felt that pressure more than anyone else ... Graphical fidelity is not something we put as the top priority," Miyazaki elaborated. "What we ask for on the graphics side depends on the systems and requirements of the game itself, and it takes less priority compared to the other elements of development. So this is always an area where I feel a little bit apologetic towards my graphics team because I know they work extremely hard."
Just the Tip of the Iceberg— Miyazaki had a lot more to say about Elden Ring in general throughout the interview with Edge (in case you're interested you can only read it by ordering a physical copy as the story isn't digitally available right now). He also revealed the forthcoming game's influences, which include The Lord of The Rings, The Eternal Champion book series, and aspects of RuneQuest.
"It's difficult to give any one single inspiration that had a major impact on Elden Ring. There have been a lot of different works that influenced the creative process in various ways--The Lord Of The Rings, The Eternal Champion series of novels by Michael Moorcock, aspects of tabletop RPGs such as RuneQuest, etc," he said. "There are a lot of motifs and themes that I was able to pick from these various works that had an effect on the development of Elden Ring."
Elden Ring is slated to come out on February 25, following a brief delay that moved back its initial release target of January. The RPG was created in conjunction with George R.R. Martin, who wrote out the setting and atmosphere of the game's environment.