Culture
Wirelessly dry your baby with this... Wireless... Baby Dryer?
Finally, the product everyone has eagerly awaited.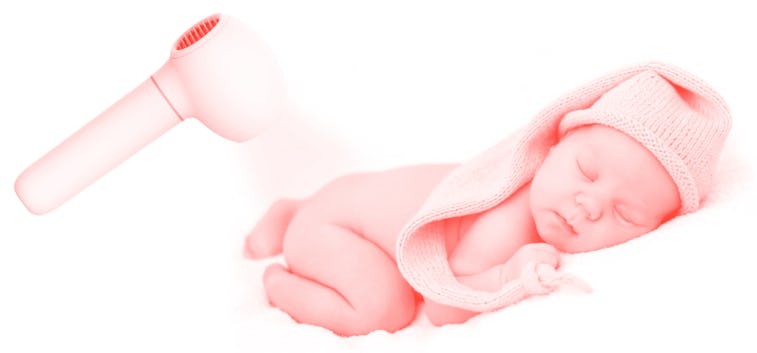 Every once in a while an unnecessary product comes along that is so unnecessary in its existence, so pure in its absurdity, that it deserves the analysis, appreciation, and time otherwise reserved for fine art. This is one of those very occasions. Readers, without further ado or introduction, we humbly present to you: the Wireless Baby Dryer.
"What is the Wireless Baby Dryer?" you may be asking yourself, to which we respond, "It is a hairdryer... that dries your baby... wirelessly." Billed (for better or worse) as "the first hairdryer specially designed for babies aged 0–3 years old," the Wireless Baby Dryer reportedly features a built-in, rechargeable lithium-ion battery and is half the size of a standard hairdryer "so users will never grow tired of holding it." It also boasts a quieter fan, so as not to spook your infant any more than they otherwise would be if chased around the room by a hot air-blowing, gun-shaped monster machine.
Oh, and the Wireless Baby Dryer's "rounded forms are reminiscent of a baby's body," according to the product page, which is less a description for a hairdryer than it is something a serial killer would say to their latest victim.
What more information could you need? — We've done our due diligence here, but unfortunately the product page over at iF World Design is pretty much the only information we can find on the Wireless Baby Dryer (we enjoy writing that out too much to stop now). Apparently, the powers-that-be over at iF have bestowed the device with one of its 2021 awards within its Product "Discipline," an accolade we can only assume was given while held at gunpoint. Or, at least, at Wireless Baby Dryer-point.
Lost in translation — The images and name alone were already enough to make our week, but we would be doing a disservice to our readers and ourselves if we didn't take a gander at the wonderful translation work done by whoever Xiamen Chipsun Science & Technology (the mad geniuses behind the Wireless Baby Dryer) hired. "Ultra low noise, allows baby a sweet dream," reads one boast, while another promises its "wireless design makes it free to reach wherever the baby moves." We're disappointed to report that there doesn't appear to be any official release date yet, but don't worry: we will most definitely be keeping our eyes on the Wireless Baby Dryer, and inform you all of any updates accordingly.