ID.Buzz
Volkswagen's electric ID. Buzz minibus just got its first official pricing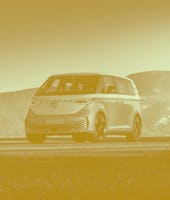 The estimated starting price for VW's ID.Buzz minibus in the U.S.
Although we're pretty bummed that it still isn't clear exactly when the all-electric retool of Volkswagen's iconic minibus would become available here in the United States, we can at least take some comfort in knowing that most of us wouldn't be able to afford it even if it rolled out tomorrow. As Electrek pointed out earlier today, VW has announced the starting pre-order pricing for its ID.Buzz EV minibus over in the U.K., and it is definitely not cheap. We're talking £57,115 — or about $72,000 when converted over into USD.
This is much, much higher than some hoped and/or expected, seeing as how many surmised we'd see a more affordable (for some people) $50,000 debut. Even subtracting assumed taxes, that's still probably around $60,000 to start. VW doesn't seem too concerned about upping the price tag closer to a tricked-out Tesla, though — pre-orders are already sold out for 2023, meaning the earliest anyone only deciding now to hop aboard an ID.Buzz will need to wait until 2024 at the very least. Welcome to PS5 Hell, VW fans.
Modest specs at an immodest price — For that kind of money, ID.Buzz drivers sound as though they'll actually be getting relatively middle-of-the-road performance specs. The first EV minibuses will reportedly feature a 82kWh battery pack allowing for a roughly 250-mile range on a single charge. Compare that to a 2022 Tesla Model S, which sees between 396 to 405 miles-per-charge and can clock in at top speeds considerably higher than the ID. Buzz's 90mph or so.
Of course, that's probably not much of an issue for prospective VW owners, considering the interior's numerous configurations and customization options. Although firmly still a luxury vehicle, the ID. Buzz is clearly meant more for families and weekend travelers than its sporty competitors.
Watch: Extreme Reviews