Electric Vehicles
Toyota's fully electric vehicle now has an official price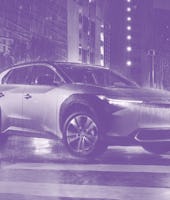 The base price for the upcoming Toyota bZ4X.
Toyota's bZ4X — its first fully electric vehicle available nationally — is still on track for a mid-2022 rollout, although the company warns initial stock will be "extremely limited" due to supply chain issues. If you can manage to get your hands on one, however, it's unsurprisingly going to set you back.
According to Toyota's official page for its new EV, its base "LE" front-wheel drive version starts at $42,000 MSRP, while it's "Limited" all-wheel drive option begins at $48,780, with each getting a respective 252 mph and 242 mph per full charge. As The Verge notes, that's around the same range as a $33,500 Chevy Bolt EUV, about 60 miles less than a $40,900 Kia EV6, and roughly 30 miles more than its likely biggest competitor, the $39,700 Hyundai Ioniq 5.
Although upping the battery capacity currently isn't an option as is the case with other EVs on the market, prospective buyers will likely need to cough up another $1,200 or so for a "Delivery, Processing, and Handling fee." The choice is yours, and still pretty pricey, but at least there are increasingly more options on the market.
The yoke got yeeted — Of particular note in the newest batch of bZ4X promotional images from Toyota is the conspicuously absent steering "yoke." First unveiled last October, the trendy shape has apparently been nixed for the bZ4X, whose new images reveal a standard circular shape for steering. Although it is certainly an interesting design, the yoke popularized by Tesla quickly came under fire for being a pretty unsafe choice for the average driver. It seems like Toyota feels the same way, and is opting for a return to form, which is fine by us, as far as we're concerned. Besides, everything else about the bZ4X still looks pretty sleek and badass.
Watch: Extreme Reviews