Rollout
Toyota recalls new bZ4X electric vehicle after wheels start falling off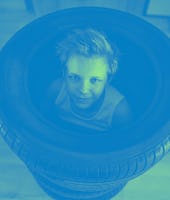 The number of cars Toyota order recalled globally — all of their bZ4X EVs sold so far.
Imgorthand/E+/Getty Images
If you paid $42,000 for a car, the least one might expect is to have its wheels remain firmly attached to the vehicle instead of, say, falling off at a moment's notice. And yet here we are, Toyota.
The Wall Street Journal reports that the Japanese carmaker has been forced to recall every single bZ4X sold since its recent release earlier this year — around 2,700 cars globally. The cause? Well, it's the darndest thing. You see, the wheels keep popping off at the exact worst times. Hell, anytime it pops off after exiting the factory floor is probably the worst time.
Input confirmed with Toyota that all of the recalled cars actually made it to customers, but a spokesperson for the company was unable to clarify whether any drivers have experienced wheel failure while driving.
"Given that there are many different sources of information with varying degrees of reliability, it is difficult to know the existence, or the exact number of times this condition has occurred. Therefore, we would like to refrain from commenting," a spokesperson said.
While Toyota said it's still investigating the issue, it appears to be related to the bolts connecting bZ4X's tires to the actual vehicle, which apparently can loosen "to the point where the wheel can detatch" after driving the car at low-mileage. Regardless of when, or if the issue is resolved, one thing is certain — that's a helluva entrance into the EV market.
Not the rollout Toyota had in mind — It's difficult to imagine a worse introduction into the electric vehicle market than a recall this simultaneously absurd, preventable, and all-encompassing. While Toyota has been one of the leading auto companies in hybrid-electric rides for over two decades, the bZ4X SUV was meant to be its long-hyped, much desired first full, readily accessible EV, but only a couple months into sales, and here we are, with Toyota giving Tesla a run for its money in the (lack of) safety department.
Supply chain woes to the rescue — Oddly enough, this is one of the rare instances in which global supply chain issues could work to Toyota's advantage. Again, this is only a recall of around 2,700 cars across the entire world, so it's not the biggest logistical hurdle to clear in order to push forward with introducing the bZ4X SUV to the market. Even without this snafu, though, Toyota already warned its customers that getting the bZ4X onto roads is going to take some time, given lack of materials. Perhaps the slow burn will be enough to allow wary consumers to regain their post-recall trust and still go forward with their EV transition. But faulty wheels? Yeesh.