Culture
This man got $85K in COVID relief and spent most of it on a Pokémon card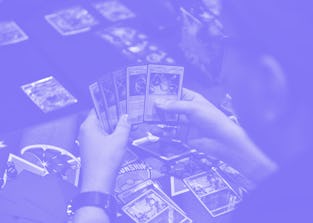 Amount of COVID funds Vinath Oudomsine allegedly spent on a Pokémon card.
John Keeble/Getty Images News/Getty Images
A man living in Georgia allegedly spent $57,789 of federal COVID relief cash on a single Pokémon card. Not exactly the wisest use of those funds, seeing as they're meant for folks who genuinely need help paying for necessities in the face of a global pandemic.
Federal authorities believe Vinath Oudomsine, a resident of Georgia, received approximately $85,000 in federal COVID funds through the Small Business Administration program, according to The Macon Telegraph. On January 8, Oudomsine spent more than $57K on a single Pokémon card — probably a First Edition Base Set Charizard or a First Edition Lugia, Motherboard suspects. In his loan application, Oudomsine claimed to have been running a small business since 2018 that had a yearly income of about $235,000. It's unclear whether or not he actually owns a business.
Buying a single Pokémon card isn't exactly a time-honored investment strategy, but the current trading card market is so inflated that Oudomsine could easily have seen it as the perfect get-rich-quick scheme.
Pokémania — If you'd told us five years ago that trading Pokémon cards would be a multi-million dollar market someday, we'd have called you a liar and sent you on your way. But that's exactly where we've ended up. Pokémon cards are no longer just colorful pieces of paper backed by nostalgia. They're legitimate assets now. Well, as legitimate as a trading card can be.
First-edition starter Pokémon cards are particularly valuable; rapper Logic bought one for $220,574 last year. Celebrity interest in rare cards has helped spike their value, too, like when Logan Paul wore his first-edition Charizard card around his neck to fight Floyd Mayweather. Even Jay-Z is investing in trading cards, now.
Quit your job, get rich fast — For the average person, the Pokémon card craze presents a tempting offer: Open a pack of $5 cards, find something rare, go from rags to riches in mere seconds. This prospect is even more intriguing in the context of pandemic layoffs and malaise. So many people have bought into this dream that Target had to stop selling trading cards in its stores to avoid people getting trampled or otherwise hurt in the rush.
So that's how we end up with a man who, when presented with $85,000 in cold hard cash, decides to spend a huge chunk of it on a single Pokémon card. Because maybe a year from now (or five) that card will be worth a smooth million. The promise of that return on his investment was strong enough to risk fraud. If there's any lesson to be learned here, it's that buying Pokémon cards is only a worthwhile investment strategy if you don't have to go to extraordinary lengths to come by them.