Culture
Tesla's original self-driving video was a sham, employees say
The company's lies about the progress of its autonomous driving software stretch back even further than we once thought.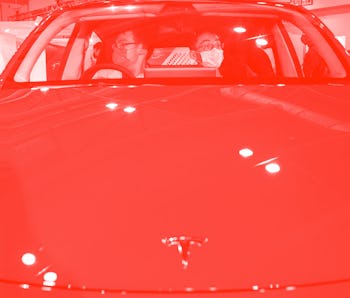 SOPA Images/LightRocket/Getty Images
It's abundantly clear that, even in 2021, Tesla's self-driving software is pretty much a total bust. So yeah, this latest report checks out. Former employees say the company's first video showing off the autonomous driving feature on a Model S was entirely staged. That video would go on to be Tesla's favorite way of ostensibly proving the Full Self-Driving project was alive and well.
The accusation was revealed by an extensive New York Times tell-all that relied on testimony from former Tesla employees to fill in the details. The article covers significant ground, summarizing in clear-headed detail the numerous ways in which Tesla's autonomous driving software has struggled and flopped.
The revelation about the 2016 video serves as a kicker to the piece. In or out of context, it's enormously illustrative of the lengths Tesla — and, more specifically, Elon Musk — is willing to go to in an attempt to fool customers and investors. The more we learn about Tesla, the more we realize that mindset is really the company's entire modus operandi.
Fake AF — When it debuted in 2016, Tesla's first self-driving demonstration seemed to hearken a bright future for the automaker. Finally, we thought, Musk's promises are paying off. Soon our cars will be driving us all over the place.
The three-minute video takes a matter-of-fact tone from the start, with the message: "The person in the driver's seat is only there for legal reasons. He is not doing anything. The car is driving itself." The remainder of the video shows a Model S steering itself around streets alongside camera and sensor views from various exterior angles.
In context of what we know now about the Full Self-Driving software's potential now, five years later, the video very much seems too good to be true. Turns out that's because it is. The route the car took had been meticulously plotted ahead of time, according to former employees, allowing the car to easily maneuver the streets. Even so, the Model S reportedly hit a roadside barrier at one point while filming the video. The vehicle had to be repaired before filming could continue.
Elon's long con — This video, we now know, is the starting point for Elon Musk's extended series of lies and misdirection about the status of Tesla's autonomous driving projects. What began as a faked video has now spiraled into a lie large enough to seriously threaten lives.
Musk first promised Full Self-Driving would be available to Tesla owners by 2017. He's spent every year since pushing back that estimate, never with much of an explanation.
Now Full Self-Driving is, indeed, available in beta form, and the many extra years of development have not proven it useful. The product Tesla drivers have long waited on is genuinely dangerous, unable to complete even relatively simple trips without putting passengers in mortal danger.