Roadblock
Tesla's Autopilot problem might be even worse than we thought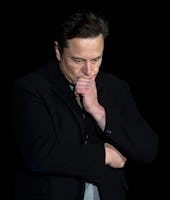 The number of Tesla vehicles potentially impacted by the NHTSA investigation.
JIM WATSON/AFP/Getty Images
Another week, another clear indication that Tesla's Self-Driving functionality should in no way remain available to the general public. Earlier today, the National Highway and Traffic Safety Administration announced that it is upgrading its current investigation into crashes purportedly involving the EV maker's Autopilot mode to an "engineering analysis," which The New York Times explains is the "more intensive level of scrutiny that is required before a recall can be ordered."
The more detailed review will examine not only drivers' propensity to become distracted while their Autopilot is engaged, but also will look into whether or not the system itself is liable to cause crashes while enabled. Although the NHTSA's initial look at Tesla focused on just 11 particular wrecks, that number has subsequently skyrocketed to at least 191 cases the agency feels warrant a closer look. Depending on the government's findings, the more intense review could potentially affect all Tesla models produced between 2014 and 2021 — roughly 830,000 vehicles in total.
After today's news, Musk might want to make some adjustments to his Master Plan's upcoming Phase Three...
The problems continue to mount — Despite what Elon Musk would have everyone believe, Tesla is staring down some genuinely serious legal battles that could easily determine the carmaker's future. It's one thing to sell your vehicles as having safe autopilot features someday down the line — it's another to continually promise that software exists now and is totally fine for not only Tesla drivers, but everyone else on the road, too. Likewise, most of the company's "revolutionary" products are still nowhere to be found (see: the Cybertruck, AI-driven semi-trucks, and that job-killing Optimus work robot).
While that may be totally fine for Musk diehards, it won't be necessarily the case for investors. Between years of overpromises and mounting regulatory pressures, we could easily witness a sea change for Tesla in the coming years.