Culture
Tesla claims Cybertruck design is 'locked,' with production to start in 2023
Stop us if you've heard this one before.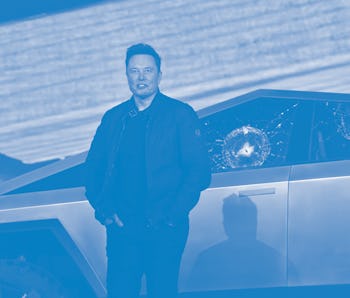 FREDERIC J. BROWN/AFP/Getty Images
Tesla CEO Elon Musk says the Cybertruck production timeline has officially been moved to begin in mid-2023. We already knew the Cybertruck had been demoted down Tesla's priority list, so it's really no surprise at all that production isn't even beginning this year.
Since first announcing the futuristic vehicle in 2019, Tesla has been very liberal with its production timeline, first telling customers to expect the all-electric truck to hit factory lines in 2021 and later revising that estimate to "some time in 2022." Early this year, Tesla scrubbed all references to a 2022 release from its website.
Sorry, Tesla bros, it's going to be at least a year before you can pick up one of these clunkers. Musk did confirm in the same interview (h/t Electrek) that Tesla is finally done tinkering with the Cybertruck's design, at least.
Design is... done? — Musk has blamed a wide variety of factors — most recently the company's insistence on creating a humanoid robot ASAP — on the Cybertruck's many delays. One common refrain is that the Tesla team has been playing around with the Cybertruck's design in order to perfect it before production begins. We've seen only minimal evidence of these design changes, mostly courtesy of leaked images.
Musk is now on record saying the Cybertruck design is finalized. "At least the design is finally locked," he said in the interview, adding that the Tesla team really got "carried away" with design tweaks.
How, exactly, Tesla has changed the Cybertruck design since its big 2019 reveal is still mostly under wraps. Prototypes have been seen around some Tesla factories, with the latest models appearing very similar to the angular, blocky body that's generated so much hype. We've seen new (ugly) side mirrors and iterations with zero door handles. A recent drone shot revealed what appears to be a bed cover, though that, too, is unconfirmed.
Supply chain woes, too — The "unfiltered" interview Musk conducted with the Tesla Owners Silicon Valley group is extensive, coming in at just under three and a half hours. (We don't have the time or energy to parse out the entire interview; one can only take so much Musk in a sitting.)
Musk did also reveal in the interview that Tesla is still feeling the heat of ongoing chip shortages, though. Even if the design had been finalized earlier, he says, the company probably wouldn't have had enough supply to pump out Cybertrucks until next year.
Getting the Cybertruck out on the road is obviously still on Musk's mind, but we'd understand if it wasn't; Tesla is facing lawsuits galore, intense Autopilot investigations, and significant Bitcoin investment regrets.