Roe vs. Wade
SCOTUS just overturned Roe v. Wade, here's how to fight back
A few suggestions for aid and support during on very dark day.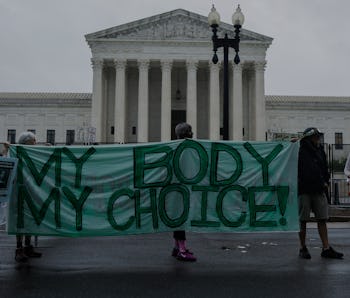 Anna Moneymaker/Getty Images News/Getty Images
We have no words right now, other than to say we stand in solidarity with everyone affected by the Supreme Court's unconscionable decision to overturn Roe vs. Wade.
Instead of writing a screed, we've compiled a rolling list of ways you can donate your time, money, and energy into fighting back. Click below to read more:
As it stands, Jezebel has assembled an incredibly helpful resource guide for people looking to donate to organizations other than Planned Parenthood, which is already immensely funded and has faced severe criticism in recent years over various issues. Some of these groups include:
The National Network of Abortion Funds — You can search this site to find your closest abortion fund, or donate to a larger pool that splits the proceeds among organizations nationwide.
If/When/How — This group provides a legal advice helpline for anyone concerned with criminal implications that could now come from abortions or miscarriages. They also offer a Repro Legal Defense Fund for attorney fees and bail fines.
Now is also as good a time as any to also brush up on your own state's abortion laws and restrictions regarding. Knowledge is its own form of resistance and protest, and ABC News has a helpful breakdown of state-by-state situations.
An increasing number of people are bringing attention to Plan C, which provides safe abortion medication access via mail. The pill is medically safe and effective for anyone 11 weeks or less pregnant. You can also donate to their cause here.
There is also this database website that can direct your to more localized abortion funds and mutual aid groups. It includes a great list of ally organizations for intersectional causes.
This list will continue to be updated and expanded...