Culture
Pornhub parent company CEO and COO resign amid continued scandal
Mindgeek has been mired in controversy for years.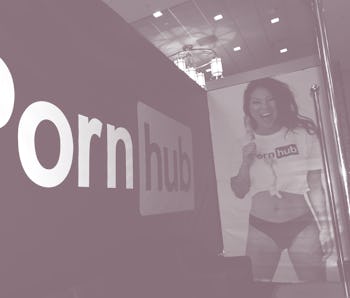 Ethan Miller/Getty Images Entertainment/Getty Images
The CEO and COO of MindGeek, the parent company of Pornhub, have both resigned, Variety reports. CEO Feras Antoon and COO David Tassillo had both worked with MindGeek for more than a decade.
MindGeek confirmed both departures and noted that the change in leadership has been in-progress for months. "With the company strategically positioned for long-term growth, MindGeek's executive leadership team will run day-to-day operations on an interim basis, with a search underway for replacements," a company spokesperson told Variety.
MindGeek owns a number of pornography properties, including both porn hosting sites (like Pornhub and RedTube) and production companies (like Sean Cody and Men.com). The Canadian company is royalty in the porn industry.
Pornhub in particular has been the subject of intense controversy over the last few years, mired so deep in scandals that major payment processors like Mastercard and Visa once cut their services from the site entirely.
It never ends — This week, Pornhub once again returned to mainstream discourse after the New Yorker published an extensive investigation into the site's nonconsensual videos. The piece brings Pornhub's moderation issues to a very human level, using individual anecdotes to demonstrate just how problematic the site's hosting has become. It speaks also to the ways in which MindGeek's legal woes are pushing the boundaries of Section 230 protections.
The investigation is surprising only in that it appears MindGeek has solved none of the issues that submerged it in boiling water back in December 2020. At the time, The New York Times published a similarly damning report detailing the extensive network of nonconsensual videos hosted on Pornhub.
Pornhub responded by hitting the panic button. The site nuked millions of unverified videos and changed its policies to ensure all future videos would be uploaded by verified users. That has obviously not been enough to secure the world's largest porn platform.
Wouldn't you want out, too? — As the owner of three of the world's largest porn sites (and plenty of other properties), MindGeek is a profitable venture. Antoon and Tassillo have been pivotal in making that possible since MindGeek's previous owner sold them the company in 2012.
Revenue is most enjoyable when you can spend your time in ways other than fending off high-profile lawsuits, though — which is how MindGeek spends a significant amount of time these days. Several class-action lawsuits have been brought against MindGeek for hosting nonconsensual pornography and child sexual abuse material.
Pornhub maintains that it uses both automated and human moderation systems to check for content that breaks its hosting rules. Whatever it is the company's doing is obviously not enough — and figuring out better ways to weed out nonconsensual or otherwise illegal videos is only going to keep getting more difficult. Antoon and Tassillo may have jumped ship at just the right time.