Planned Privacy
Planned Parenthood's abortion scheduler shares data with Google, Facebook
"This was absolutely shocking. We've analyzed and reviewed the tracking behaviors of hundreds of apps and websites, and it's rare to see this degree of carelessness with sensitive health data."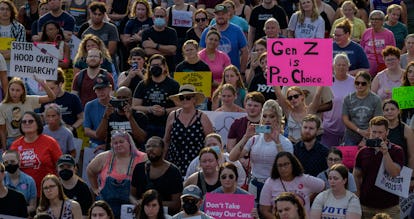 ANGELA WEISS/AFP/Getty Images
Planning reproductive health procedures like abortions — especially after last week's devastating Supreme Court decision — is an incredibly personal and sensitive undertaking. Privacy is of the utmost concern, and one would hope that organizations providing services like online scheduling portals fully understand and address this. Unfortunately, we can't even get a simple bone like that tossed to us these days.
As a new report from The Washington Post details, it appears that Planned Parenthood's online abortion scheduling portal routinely shares a vast amount of private data with third-party companies like Google, Facebook, and TikTok, including a person's IP address, approximate zip code, and desired medical service.
The revelations, provided to WaPo via an investigation from Lockdown Privacy, are particularly stunning even for data sharing experts. "This was absolutely shocking," said Lockdown Privacy founder Johnny Lin. "We've analyzed and reviewed the tracking behaviors of hundreds of apps and websites, and it's rare to see this degree of carelessness with sensitive health data."
Sorry, not sorry — Despite getting publicly called out for extremely disconcerting policies surrounding women's privacy during an extremely desperate and dangerous time, Planned Parenthood doesn't appear to see much wrong with the situation. "Marketing is a necessary part of Planned Parenthood's work to reach people who are seeking sexual and reproductive health care, education, and information," said Planned Parenthood spokeswoman Lauren Kokum. Additionally, Kokum didn't appear to signal one way or the other whether Planned Parenthood intends to fix (or at least somewhat alter) these privacy issues.