Culture
Oatly's new electric trucks will drastically reduce its carbon footprint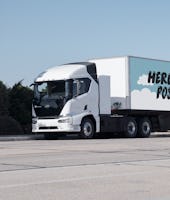 Kilograms of CO2 saved in the next year.
Oatly, the largest oat milk company in the world, is bringing all-electric trucks to its ground transportation operations in North America. Just five trucks will help cart Oatly across the continent for the time being, but even that small fleet is a significant step toward a more sustainable supply chain.
If you're not straining your own potato milk at home, oat milk is one of the most environmentally conscious alt milk choices you can make. Even the oat milk industry contributes to climate change, though — the creamy oat liquid can't exactly walk itself over to every supermarket's cold aisle.
"Oatly is on a mission to transform the global food system into one that is healthier for people and the planet," said Chi Mbachu, VP of North American logistics, in a statement. "We're thrilled to get these electric trucks on the road in North America and continue our global transition to sustainable ground transportation."
Oatly has set itself the fairly lofty goal of utilizing only 100 percent sustainable ground transportation options by 2029. That goal will only become more difficult to attain as the company continues to grow. Getting a head start now is pretty much the best thing Oatly can do.
Thanks, Einride — Seeing as Tesla's Semi trucks aren't hitting the road any time soon, Oatly will utilize electric trucks from Einride, a Swedish manufacturer. Einride works mostly overseas, though a partnership with GE did bring the company's electric Pod trucks to the U.S. last year.
The five Einride trucks will operate between both of Oatly's American facilities, one in Ogden, Utah, and the other in Millville, New Jersey. Einride estimates that Oatly will save about 400,000 kg of CO2 over the next year just by replacing five diesel trucks with Einride's.
Einride's trucks are already part of Oatly's ground transportation fleet in Europe, where they've been delivering oat milk since October 2020. Oatly says it's on track to save 2,000 tons of CO2 in its European operations by 2025.
The time is now — The number of companies switching up their product offerings as of late in an attempt to fight climate change is staggering. Even the greenest of products still contribute to the death of the environment.
Switching five trucks to all-electric Einrides may seem like a small change in the grander context of climate collapse, but it's a significant reduction of Oatly's remaining carbon footprint. It's the kind of move many more companies will need to make in the near future to really clean up their operations.