Culture
ICE is conducting millions more LexisNexis searches than it admitted to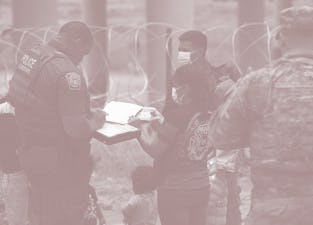 LexisNexis searches in a seven-month period.
ALLISON DINNER/AFP/Getty Images
U.S. Immigration and Customs Enforcement has been using LexisNexis much, much more than it's told the public, according to a new report from Mijente and Just Futures Law. ICE has said it only searches LexisNexis's extensive databases when researching people with "serious criminal backgrounds" — but the agency has actually been conducting millions of searches.
Over a seven-month period, ICE completed roughly 1.2 million LexisNexis searches, according to a report shared with The Information. One user conducted more than 26,000 searches on their own. That's less of an every-once-in-a-while-when-necessary type of thing and more of a total-mass-surveillance operation.
To make matters significantly worse, each logged search can actually encompass more than one person — often they're run on entire families. Cinthya Rodriguez, an organizer with Mijente, estimates that more like 3 million people turned up in those search results.
"What we're saying is," Rodriguez said, "perhaps 1 percent of the U.S. population was under ICE surveillance."
Any record, any time — ICE bought access to LexisNexis's suite of products last year for $16.8 million. The LexisNexis database is truly massive, containing billions of records from thousands of sources. Both ICE and LexisNexis say that mass of records is only to be used for tracking down people with "serious criminal backgrounds."
But more than 260,000 searches during the studied period were carried out by Enforcement and Removal Operations (ERO), the segment of ICE that explicitly seeks to detain and deport immigrants. And, as it turns out, ERO was told explicitly to use LexisNexis tools essentially whenever they want, according to an internal memo seen by The Intercept. That memo reads:
"Please note this additional valuable resource should be widely utilized by ERO personnel as an integral part of our mission to protect the homeland through the identification, location, arrest, and removal of noncitizens who undermine the safety of our communities and the integrity of our immigration laws."
Revolutionary tech (for bad) — Modern analytics platforms, when coupled with ludicrously large databases, are inherently dangerous. This is the kind of surveillance technology science fiction has been trying to warn us about for many years. And now we have confirmation that ICE is, indeed, abusing the power afforded to it by LexisNexis.
ICE has slowly but surely been racking up an impressive arsenal of surveillance technology. Between facial recognition databases, blockchain analytics, and access to billions of documents, ICE's technological prowess is quickly approaching a boiling point.