Culture
Google expands its fact-checking labels to Images
Deepfakes will be easier to spot than ever before. The feature is rolling out now.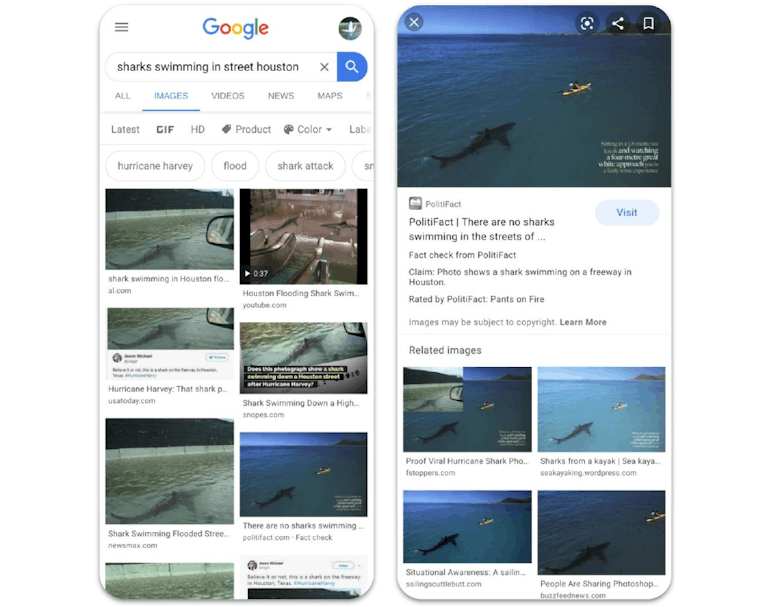 Google is bringing fact-checking to its Google Images search database, the company announced in a blog post. The new labeling expands upon Google's existing fact-checking feature in its Search and News sections, which the company says are encountered billions of times every year.
Thanks to the rise of doctored images on social media and around the web in general, the truth of an image's contents needs to be subject to just as much scrutiny as text. Google understands that the dissemination of misinformation across the internet is only going to continue to worsen as long as people can post whatever they want on the internet.
Expanding fact-checking initiatives should be a project on every tech company's mind right now. To refuse to do so is just willful ignorance at this point.
How does it work? — The feature's design is simple but effective. Much like in Google's Search and News tabs, the new fact-check label shows up under initial thumbnail results with minimal information. A more detailed summary of the fact check is displayed once an image has been expanded to a larger format.
Who is checking the facts? — As with its other fact-checking initiatives, Google is using a methodology called ClaimReview, a tagging system that's quickly becoming an industry standard.
ClaimReview uses an expansive network of fact-checkers to efficiently understand the truths associated with something published to the web. Right now the network has more than a dozen member organizations, including The Washington Post, Fact Checker, PolitiFact, and FactCheck.org.
All publishers involved in ClaimReview must either be considered an "authoritative publisher" or meet the International Fact-Checking Network's Code of Principles. Publishers and their fact checks are reviewed on an ongoing basis.
If the ClaimReview system sounds familiar, that's because it's the same one being used by the likes of Facebook, YouTube, Bing, and Google's other properties.
Misinformation is a massive problem — There's nothing to stop the general population from posting misinformation under the auspices of truth. Google is finally realizing that as the top aggregator of the internet's highs and lows, it must bear some of the burden of keeping users aware of misinformation. And now that's not just limited to general searches and news headlines.
It's not clear just how far Google Images' fact-checking extends at launch; Google simply says the new labels "may appear" in searches now. No matter its initial scope, the project is a further step toward dispelling misinformation across the web, and for that we're thankful. Maybe (crossing our fingers here) other companies will even follow suit.